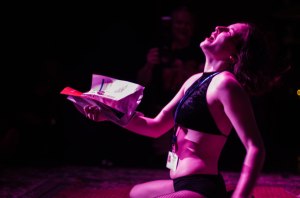 Is it hot in New York, or is it just these guys?
Last Friday, we were lucky enough to score seats to the AirSex World Championships in midtown. It wasn't exactly what we had imagined; yet it yielded precisely the results intended — a night of watching inappropriate behavior and heavy laughter.
For the record, AirSex isn't two people dry humping on harnesses suspended 50 feet in the air. Think air guitar, but instead of an invisible guitar, each contestant has an invisible slam piece.
AirSex, which began in 2007 in Austin, Texas, is a competition-infused comedy tour, judged by carefully selected local sexperts. Friday's judges included Rebecca Trent, owner of the Creek & the Cave comedy bar, Cleo Valentine, adult film star, and Molly Ruben-Long, a recurring judge that has toured with AirSex since 2009. The 14-city tour leads up to a final competition held in New Orleans this December.
Each of the eight contestants — who all signed up (stage names, costumes and all) upon their arrival — had the stage for two minutes. Two minutes to make sweet invisible love to any music of their choosing and performing any and all elements of a sexual encounter.
There were just two rules: If a swimsuit can cover it, you can't show it, and, of course, no touching.
It all sounded a little rapey at first, we admit, but then the show's producer and host, comedian Chris Trew, mounted the stage to show the crowd how it's done. Boy, did he know how to work the crowd.
This Observer reporter nearly choked on a Dicken's Cider — one of the night's many cleverly branded drinks  — when Mr. Trew began his routine. Unlike his AirSex performance during last season's America's Got Talent auditions, the audience laughed foreplay to climax, hooting and hollering at every thrust in between.
"It's about creativity and believability," Mr. Trew, a thinner, bearded, hipster version of Jonah Hill, informed the audience. "You need to work the stage, be a global performer, and give the audience everything you can."
The laughs — and the love — didn't stop there. Routines to popular songs like Robin Thicke's "Blurred Lines" had members of the crowd dancing along to the questionable sexual experiences occurring on stage. One air banger got down to the Superman theme song.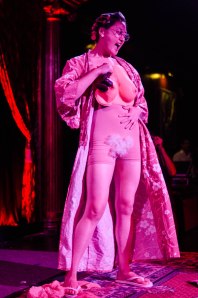 But it was the used-to-be frat boy named Forgotten Son, a burlesque lab assistant called Doctor Snatch and a denture-clad Asian grandma known as Jam Out with My Clam Out, who stole the show.
The three moved onto the night's final round, where they performed to mystery music in an on-the-spot routine. The schoolboy comedic tenderness of Mr. Son and the highly erotic spread eagles of Ms. Snatch were no match for Ms. Clam Out's simulated denture-free blowjobs and heart failure scares. The audience crowned Clam Out New York's AirSex Champion.
"The whole point was to get people laughing," Ms. Clam Out explained after winning her second straight New York title. "It is way more fun being silly and weird than sexy."
The whole AirSex experience was kind of like losing your virginity — it was awkward and sometimes painful to watch, but it's something to brag about the next day.
Correction: a previous version of this story listed the Indiana Jones theme song as playing when a contestant was performing. Upon further research, it was discovered that the Superman theme song was playing. We regret the error.