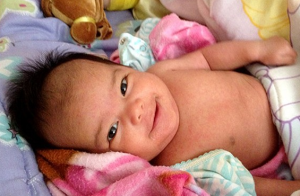 We incorrectly assumed that we've hit peak baby trend stories following the Times piece a few months ago about parents letting their little angels take diaperless poops, because there's something worse in buzzy profiles: introducing the "Bitcoin baby."
The Telegraph reports a California couple used the decentralized digital currency to receive a fifty percent discount on their fertility treatment in what appears to be another blow to Groupon. The baby, born late last year, is a girl, despite the fact that "everybody thinks it's a boy," said fertility specialist Dr. C Terence Lee.
The doctor claims to be first clinic to accept Bitcoins and lauded the volatile, privacy panic-inspiring currency as a "cool technology." The couple, who were repeat customers with Dr. Lee, were the first to accept his deal after several patients rebuffed the offer for whatever reason.
"In the beginning, it took a lot of effort on my part because I had to talk to patients about Bitcoin and hold their hand hand and help them through it," said Dr. Lee.
He helped the couple set up an account with CryptoXChange, a Bitcoin currency website that has since gone bust. The couple had converted $1,000 into Bitcoins, which Dr. Lee has since seen increase in value. It's now worth $3,600, so that's how you operate a business.
Previously, Dr. Lee showed off his Bitcoin expertise by advertising on–where else?–Reddit, seeking a patient to pay for a sperm test with 15 Bitcoins.
The r/Bitcoin subreddit just might outlive us all.