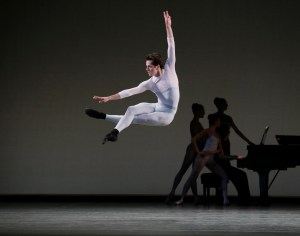 City Ballet's schizophrenic spring season has packed up its wares and gone away, leaving some of us (well, me) exhilarated, bewildered, and depressed. Maybe we're the ones who are schizophrenic. The idea, which dominated the repertory almost until the end, was to revive the American Music Festival of 1988—an odd idea, considering how disappointing that festival turned out to be. Alas, good music doesn't necessarily guarantee good ballets.
What guarantees—or at least semi-guarantees—good ballets is good choreographers, and they are thin on the ground. In the 30 years since Balanchine's death, only two names have been taken seriously by most serious ballet-lovers: Wheeldon and Ratmansky. Everyone's looking for the next major talent; the problem is to keep oneself from jumping on a bandwagon prematurely. At City Ballet, there's only one candidate—Justin Peck, recently made a soloist, three of whose works have been presented by the company in the past year. That's the fast lane, and he deserves it. Other companies are already jumping on the bandwagon, and I suppose Peck is in danger of the too-much-too-soon syndrome, but somehow I doubt it. His work never seems forced or willed; it seems to come easily, naturally, from a quick and brimming intelligence rather than a drive to succeed.
The piece we've seen most recently, In Creases, is actually the earliest of the three: it was first shown last summer during the company's Saratoga season. It reveals the same qualities Peck has demonstrated in his other work: fluency, originality, energy, dash and wit—the last of which has not been much in evidence in the choreography of recent years. Suddenly there's a new grouping, a new conformation of forces; how did we get there? It's all so fast, yet never blurred. The four men and four women are equal—until suddenly they're not: Christian Tworzyanski and Sara Adams step out as a couple, both of them suddenly revealed to us as potentially important dancers. Who knew? And then Robert Fairchild, who this year has confirmed his place as the company's essential male dancer, is soloing, eating up the territory, fully charged at every moment without ever hogging attention. He's a lovable, modest dynamo. But Peck always brings out the best in dancers. His pals in the company obviously like dancing what he gives them, and so they give him everything they've got. Maybe there's a future after all.
Fairchild also turned in the best performance I've seen in years of the male lead in Balanchine's Who Cares? The guy in this role needs to be charming (it was originally made for that shameless charmer Jacques d'Amboise). He needs to be a terrific partner—he has three ballerinas to look after. He needs to have explosive energy for the finale. And he needs to hold the whole thing together without detracting from his ladies, and in a black costume that at times just doesn't read against the black of the background. (They keep changing all the other costumes, for the worse: the poisonous cerise and turquoise for the corps girls of the opening sections are astonishingly vulgar.) Fairchild doesn't lose his concentration for a moment, and whatever he's in, the audience loves him.
I wish I could be as enthusiastic about the three ballerinas. Sterling Hyltin in the Patricia McBride role ("The Man I Love," "Fascinatin' Rhythm") is very lovely, both romantic and high-spirited. She just doesn't take the final step of letting loose. The extensions could be more extended. The leaps onto the guy's shoulder could be more daring. What she needs is an hour's coaching from McBride, but that's not the way City Ballet works. Ana Sophia Scheller has learned to smile, but her strong dancing remains characterless. The disaster was Abi Stafford—stiff, dull, out of place. This level of miscasting constitutes cruelty to a dancer. What's Gershwin without swing?
Hyltin shone throughout the rest of the season. Her debut as the central girl in Serenade was convincing and moving, even though we associate the role with dancers less ethereal. She was enchanting in Western Symphony, poignant in Stravinsky Violin Concerto. She doesn't have the brio, the supreme musicality of Tiler Peck (who does?) or the plangency and inner life of Sara Mearns when Mearns is at her best (at the moment, she's just too heavy). But Hyltin has a unique and appealing quality that connects with the audience, and she grows in her roles. Example: contrast the misguided performance both she and Fairchild gave in Peter Martins' Calcium Night Light a couple of weeks earlier with their final performance of it. Something went right. This was now a contest, not a date.
A number of other things have gone right. Richard Tanner's interesting Sonatas and Interludes, to fascinating music for prepared piano by John Cage, was danced by both Mearns and Peck (Tiler, not Justin; they're not related). But the hero of the occasion was Amar Ramasar, who has finally graduated into the responsibilities of a committed male principal. This was a beautifully judged performance; he's finally focused. The orchestra has been sounding worthy of the theater's vastly improved acoustics—particularly strong was Tschaikovsky Suite No. 3 (a favorite of Balanchine's) under the leadership of Daniel Capps. Teresa Reichlen and an up-and-coming boy from the corps, Zachary Catazaro, made the best argument I've seen in years for the schmaltzy "Elegie" movement of the Suite by utterly believing in it and going full throttle.
It was wonderful to have Ivesiana back, that obscure and powerful Balanchine ballet that has been in and out of the repertory since 1954. It was in "The Unanswered Question" section that we first saw Allegra Kent, beautiful and mysterious, held aloft by three men, never touching the ground, while Todd Bolender, below, vainly tried to capture her. The girl today is Janie Taylor, who would be ideal if she didn't have all that yellow hair gushing down her back; in role after role, it distracts us from her dancing. The "In the Inn" section has gotten cuter over the years; the lighting has gotten darker.
Perhaps most rewarding of all was the command, the sheer beauty of Wendy Whelan in Ratmansky's Concerto DSCH. Her long and valiant career is drawing to a close, yet here, in a role created on her, she was at her finest. And superbly partnered by Tyler Angle, a mainstay of the company, as is his brother Jared.
But even apart from the uneven nature of the season's repertory due to the American Music gimmick, there were disappointments. Megan Fairchild should not be dancing pure classical roles—her unclassical body and limbs and her minimal feet sabotage her strong allegro technique. Her Tschaikovsky Pas de Deux was not a pretty sight. But she redeemed herself in Martins' Barber Violin Concerto, not only in the final movement, when she swarms around and over her partner like a drunken hornet, but in the opening romantic movement, where, in a flowing dress, she was expressive and persuasive. Finally, there is the mixed blessing of Ashley Bouder, undoubtedly the strongest of the classicists. She nails the "Theme and Variations" section of Suite No. 3 with no effort at all. So why is she punctuating more and more, exaggerating effect after effect, undercutting the purity of this glorious role? Why doesn't someone stop her? Why doesn't she stop herself? She appears to have everything—except taste.
And speaking of taste, what about the trendy junkiness of the bits of décor by the FAILE art collective that litter the theater? Well, we can comfort ourselves by thinking that they're more appropriate defiling a theater named for David H. Koch than one simply known as the State.
editorial@observer.com