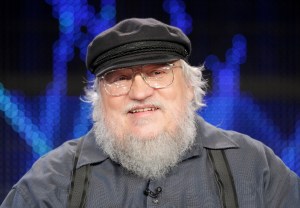 In an interview on Conan, Game of Thrones author George R. R. Martin revealed that a certain mysterious island across the water from his Bayonne, N.J. childhood home played a part in his hit book series.
"I come from a Blue Collar family, my father was a longshoreman. We lived in the projects on First Street in Bayonne, which has a deep water channel in front of it—the Kill Van Kull—connects New York Bay and Newark Bay and Staten Island across the way," he said.
"We never went anywhere. My world was five blocks long, I hardly ever got beyond those five blocks except in my imagination. I would sit in my living room windows looking out at the big ships going up and down the Kill Van Kull with all the flags of the different countries of the world. And the lights of Staten Island across the way—where we never even went—wondering what exotic mysteries and wonders lurked on Staten Island," Mr. Martin told Conan. "Would I ever see them?"
While his childhood curiosity might have led to visions of dragons, wars, and frankly, lots of sex in Staten Island, Mr. Martin eventually visited the oft-forgotten borough, and was grounded more in reality. "I have to say, it was kind of disappointing," he said.
It would be tough to live up to expectations of warring factions, beheadings and castrations that his imagination dreamt up.
In fact, Staten Island is the safest of the boroughs, and makes up only two percent of the murders in New York. "The Red Wedding" episode of season three was bloodier in 60 minutes than the borough was in a year.
Yet if Staten Island were to represent Westeros, would that mean Downtown Staten Island is Kings Landing? Or is St. George representative of Winterfell? Is the Staten Island Boat Graveyard a remnant of King Robert's rebellion?
If Staten Island is Westeros, that means Manhattanites are living north of the Wall. Which makes sense, because we're sure we saw White Walkers on 42nd street.
[protected-iframe id="93843e0d8130518d65cad7de1ad227c6-35584880-41847290″ info="http://teamcoco.com/embed/v/53106″ width="640″ height="465″ frameborder="0″ allowfullscreen=""]