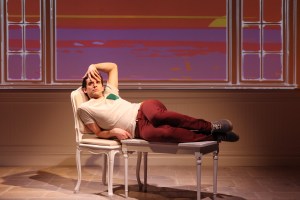 "Before I tell you this story, we need to get a few things straight," the former sitcom star and current exceedingly charming stage actor Michael Urie, seated on the lip of the stage, chatting conspiratorially, tells us just after the house lights go down. "First, this is a work of fiction. You know that, right? I mean, the premise is preposterous. What I'm going to tell you could not possibly have happened with a person as famous, talented and litigious as Barbra Streisand." He draws out the world "litigious," accenting it, getting a laugh and also preparing the audience for a tale so unauthorized and irreverent that there's a real risk the litigious perfectionist might seek legal redress.
But the trick of the thing is that, despite that setup and tone, of course she wouldn't, and not just because Buyer & Cellar is a hilarious delight, with a masterful one-man performance by Mr. Urie. It's also because as much as this play trades on gay Streisand obsession and funny, catty jokes about her mannerisms and eccentricities and extravagances and demands—"If she were a man, I'd call her a perfectionist," Alex More, Mr. Urie's character, drily remarks—it's also a deeply sympathetic examination of celebrity and loneliness and the need for connection, and it's a defense of Barbra's perfectionism.
Written by Jonathan Tolins, the play is silly and very funny but also surprisingly sweet and moving. It's both smart-ass and smart. Directed with subtle dynamism by Stephen Brackett and featuring Mr. Urie's bravura performance—as he recounts Alex's story, Mr. Urie plays that role and also Barbra, James Brolin, Alex's boyfriend Barry and several others—Buyer & Cellar opened Monday night at the Barrow Street Theatre after a successful run this spring at the tiny Rattlestick Playwrights Theater. It's a small masterpiece.
"I just want you to care as much as I do," Barbra tells Alex soon after their first meeting. The star—and this part is true—has constructed a sort of shopping mall in her basement, a collection of old-timey shops in which to archive and display her various collections. Mr. Tolins's inspired idea was to imagine that someone must work in that mall, perhaps an out-of-work actor with retail experience, who spends his days cleaning, tending and, when the lady herself comes to "shop," serving as a clerk. Mr. Urie's Alex gets that job.
At first he's alone in the basement, dusting, folding and, well, playing with Barbra's dolls. But then one day Barbra comes to visit, and Alex dutifully acts the role of salesman. He shows her items, they haggle over prices, he stands his ground. He feels like he's gaining her respect. Soon they're friends, of a sort. And she's confiding in him. In everything she does, all her hard work and demands, she's trying so hard to make things just right. She has worked hard, for years, achieved so much—and she only wants everyone else to care about things as much as she does.
"When I started this job," Alex says at one point, "I was not that big a Barbra queen. Not into Judy either." But as he spends time in that basement, he falls for his boss. He starts to see her as a person, sympathizing, despite all her money and success, with her worries and insecurities. Barry, meanwhile, the sort of gay man who maintains a DVD library of gay-icon performances, turns on Alex, and on Barbra. He doesn't find Alex's stories charming and sweet; he sees a rich and successful woman who can't stop complaining—and who insists on denigrating, rather than honoring, her tough past. "At what point," he kvetches, "does she look back and say, 'You know what, for a meeskite, I did okay'?"
They're funny bits—Barry's riff on the accomplishments of mid-century Brooklynites could kick off a Marty Markowitz mayoral campaign—but they also serve an important dramatic point. Barry's anti-Barbra rants articulate the anti-Barbra argument, giving context and credibly to Alex's defenses of her. And it's that dialectic—the victim and the diva, the perfectionist and the visionary, the object of ridicule and the object of praise—that we talk about when we talk about Barbra. Buyer & Cellar is so excellent not just because of Mr. Urie's great performance, but also because Mr. Tolins so skillfully embraces both sides of Barbra. His play gives us generous laughs but also human generosity.
The Explorers Club, a new comedy at the Manhattan Theatre Club's Off Broadway space in City Center, is set in 1879 in a London gentlemen's club devoted to exploration and scientific inquiry. (Their toast: "To science!") Unfortunately, the play itself seems an artifact from a long-lost and distant society, a creaky farce that—despite a game and talented cast, a gorgeously detailed set by Donyale Werle and Marc Bruni's spirited direction—offers a steady stream of tepid laughs but nothing in the way of originality or insight.
Lucius Fretway (Lorenzo Pisoni) is serving as temporary president of the Explorers Club while its usual leader is away on an expedition. He's a shy botanist prone to walking into furniture, but he's using his position to nominate for membership the club's first woman, Phyllida Spotte-Hume (Jennifer Westfeldt), both because he is in love with her and because she has made a remarkable discovery, the lost city of Pahatlabong. Phyllida, for her part, has brought back from Pahatlabong a blue-skinned, war-painted native nicknamed Luigi (Carson Elrod), who speaks virtually no English and whose preferred form of greeting is to hit his interlocutor in the face. The other club members include mild-mannered scientists, an "archeo-theologist" or Bible scientist (John McMartin) who believes the Irish are actually the lost tribes of Israel, and the swashbuckling but quite dim explorer-president (Harry Percy), who once discovered the East Pole.
Things proceed about as you'd expect, or as you'd expect not to expect, with Irish mobs storming the club after being informed they're actually Jewish, her majesty's guards surrounding the club after Luigi (inevitably) slaps the queen, Phyllida's identical twin sister making an appearance, one scientist's prized snake eating another's prized guinea pig, Luigi serving as the club's bartender and, of course, a happy ending.
Ms. Westfeldt plays her silly role with gusto, and Mr. Elrod (who shone in the recent revival of David Ives's All in the Timing at 59E59) again displays a gift for physical comedy. Indeed, all the performances, and the whole evening, are entirely pleasant enough. But it's about as fresh and relevant as the British Empire.