It looks like Stone Phillips may have finally found a place to settle down. The former Dateline anchor displayed some undeniable signs of real estate restlessness, especially after NBC declined to renew his contract. In 2007, he sold both his triplex penthouse on Central Park West and then in 2010, he also offloaded his sprawling loft on West 19th Street.
Next the former anchor bought a two-bedroom spread at 45 Gramercy Park North for $4.9 million, apparently with every intention of staying—he hired architect Michael Haverland to do a full renovation. But Mr. Phillips offloaded the downtown spread just a year later, along with Mr. Haverland's blueprints, for $5.7 million, seemingly retreating to the family's country house in Dobbs Ferry, which he listed on the deed.
But now the one-time anchor has re-emerged on the Manhattan real estate scene. Property records show that Mr. Phillips and wife Debra have dropped $3.15 million on a three-bedroom, 3.5-bath co-op at 10 Park Avenue.
The place appears to be a little more modest than Mr. Phillip's old triplex penthouse, but the Murray Hill co-op is still a pre-war beauty, with high-beamed ceilings and casement windows that let light in from three exposures. The grand, 45-foot-long living/dining room "boasts panoramic Chrysler Building views and set back terrace," trumpets the listing, held by Sotheby's broker Mara Flash Blum.
"It was a wonderful apartment, someone just walked in and thought it was very, very special," said Ms. Blum, declining to comment on who that someone was. "Murray Hill is such a great neighborhood."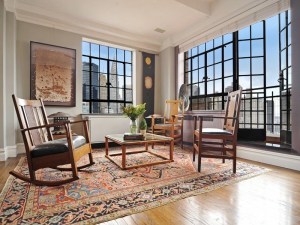 The spread looks as dignified as the famously-dignified news anchor, with basket-weave marble flooring in the bathrooms, custom bookcases and a kitchen with deep farm sink and black-and-white flooring. The couple paid the full asking price for the apartment, which spent only a single day on the market. Educational researchers Jeannie Oakes and Mark Lipton—they co-authored the book Teaching to Change the World—paid $2.67 million for the spread back in 2010. Given that both teach at UCLA, the purchase would appear to have been intended as a pied-a-terre. Who knew educational research paid so well?
Fortunately for Mr. Phillips, he's not only finding his real estate groove again, but also his journalistic one. He recently made a personal documentary about caring for the elderly that chronicled the choices his siblings had to make in order to care for their aging parents in St. Louis. He has also funded several of his own online reporting projects—posted on Stone Phillips reports—about head impacts in youth football and veteran's health.
"It is a different world when there is not the breadth and the resources of an entire network behind you when you are an anchor, but I will tell you, this has been a learning experience," Mr. Phillips told MediaBistro last year. "I never tweeted or Facebooked about anything before, I feel like I just jumped into the 21st century."