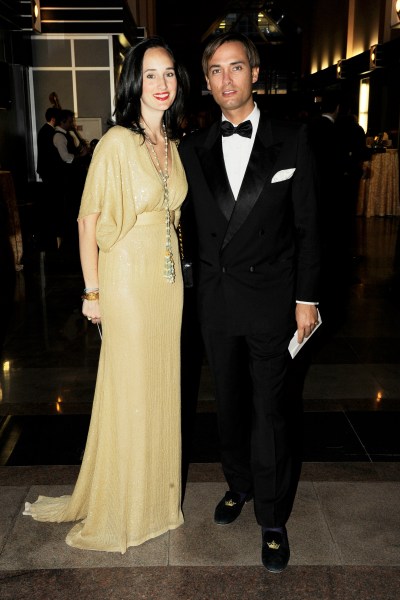 The latest case of nanny-abuse, reported in The New York Post today, has some complicating factors that keep it from being the regular sob-story of rich parents gone wrong.
Namely that the nanny in question, 50-year-old Chilean native Felicitas del Carmen Villanueva Garnica, has been diagnosed with encephalitis after running away from the "captivity" of her former employees, whom she has worked for since 2010. As anyone who has been watching Hannibal this season can tell you, the condition, an inflammation of the brain, most commonly manifests itself in patients with seizures, loss of memory and vivid hallucinations.
This is not to imply that Ms. Villanueva's claims are any less legitimate, only that any private defense attorney worth their salt will most likely use the nanny's psychiatric and medical records, such as they are, to their clients' benefit.

Ms. Villanueva story has all the horrors of a penny dreadful. She was forced to illegally migrate to the United States on the behest of her socialite employers Malu Custer Edwards, 28, and Micky Hurley, whom The Observer profiled before any of allegations of abuse were brought to light. She claims she was abused by the parents and her three charges, who would routinely beat and starve their "employee." (A conditional term, since she was paid in slave wages, no more than $2 an hour, according to her lawsuit). In July of 2011, the state Department of Labor ordered the couple to pay Villanueva $6,302 in back wages.
According to the Post's account of Ms. Villanueva trials, the three children in her care would turn violent when they weren't being fed:
"The children would slap and hit her on a daily basis," including the youngest, who hit her with a chair, Villanueva claims.

Villanueva began taking photos of her injuries, because, she says, the mother refused to believe her.

The nanny noticed the kids got more aggressive when they were hungry — which was frequently, Villanueva claims in her suit.

Edwards "bought only small amounts of milk, yogurt, eggs and bread and 'nothing else,' " court papers say. Her husband once scolded Villanueva in a rage for eating the "last piece of bread."

Breakfast was usually nothing more than a small teacup of milk and a piece of bread smaller than a coaster, Villanueva alleged.
After running away and landing at Safe Horizons, Ms. Villanueva was diagnosed with hypertension–which she claims she wasn't allowed to receive medicine for–along with post-traumatic stress disorder, pedophobia (a fear of children) and encephalitis. The article makes no mention of how the last condition may effect Villanueva's lawsuit, which claims that she was abused every day that she worked for her employers, as her testimony may be considered unreliable.
So far Mr. Edwards and Ms. Hurley have denied any allegations of mistreatment. The case serves to highlight the need for politicians to call for greater oversight and regulations regarding home-based childcare.