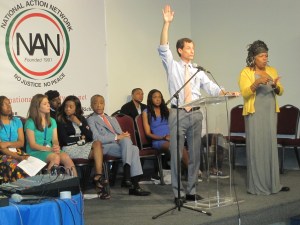 The Rev. Al Sharpton walked away unimpressed following Anthony Weiner's first campaign appearance in front of his National Action Network in Harlem Saturday morning.
Mr. Sharpton, who met privately with the former congressman before they each took to the stage, worried about what he described as a lack of substance on the part of the candidates.
"One of the things I've been concerned about is that I hear a lot of noise, but I'm not hearing a lot of policy and I'm not hearing a lot of vision," Mr. Sharpton told the audience gathered at the House of Justice on West 145th Street in Harlem before Mr. Weiner spoke at what has become a defining stop for Democrats on the mayoral campaign trail.
He ran through a list of problems facing the city: unemployment, education, stop-and-frisk, gun violence and gentrification–the later of which he said had yet to come up in the race. "We cannot afford to have … a personality contest in September or November," he warned.
For his part, Mr. Weiner appeared comfortable on stage, embracing staffers and bopping along to the music that played as he entered the room. In his remarks, he stuck mostly to his usual talking points, criticizing fellow Democrats for too often defining themselves in opposition to their Republican counterparts, and saying that he intends to run a campaign founded on ideas.
He drew quiet "yeah"s and "mmhmm"s from the room as he called for better-paying jobs and a health care system overhaul, as well as new investments in public housing, which he warned is "teetering on the edge of falling into the abyss." He proposed a new model for affordable housing, in which 60 percent would be priced market-rate, 20 percent reserved for low-income families, and 20 percent for middle-income residents. But his loudest applause came when he called for major reforms to stop-and-frisk.
"We have been told for too long that it is a choice we have to make between feeling safe, being safe and having our rights protected," said Mr. Weiner, who believes that–while it is a valuable tool for going after bad guys–the controversial practice has long been abused as "a racial tool."
"We have to stop using the tool of stop-and-frisk against particular communities," he said, arguing that, "when you have a situation where 97, 98, 99 percent of the stops are resulting in no crime, no gun, no police report being submitted beyond the '250' stating you stopped the guy, you're a bad cop. You're not doing your job."
He added that he likely won't have to worry about his 17-month-old son being stopped by police when he gets older, but wants the same to be true for his son's future friends.
"I can say with some certitude, although he might get in trouble–being my son, I have a feeling he might … but I can tell you this: the chances of Jordan Zane Weiner getting stopped by a police officer when he's 17 walking down the street are virtually zero," he said, making a lighthearted referenced to the sexting scandal that forced him to resign from Congress two years ago.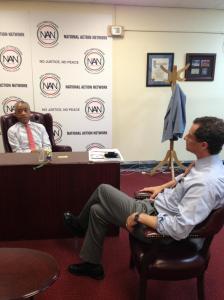 The performance earned him praise from the audience, but not from Mr. Sharpton, who told Politicker after the event that while he thought Mr. Weiner deserved a second chance ("The issue for us is the interests that will serve all of us, not some kind of other issues that should be resolved in the privacy of people's lives," he'd said earlier), he hadn't heard any ideas from him–or the other contenders–that had really drawn his attention.
"Not really. I'm not hearing enough ideas." said Mr. Sharpton, bemoaning the fact that Mr. Weiner, whom he's clashed with in the past, had failed to use the opportunity to talk about many of the issues he'd mentioned in his introductory remarks.
"I think I raised 'em right here," he said glibly. "And that's all I can do."
Nonetheless, Mr. Weiner was well-received by many in the audience, including Chet Whye, a local community leader, who said he was thrilled to see Mr. Weiner speak.
"I was glad that he brought the focus on the issues and I was happy to see him embraced because of it," said Mr. Whye, who said he hasn't locked in who he will vote for, but is leaning toward Mr. Weiner. "Anthony has been a progressive forever … We need a mayor that is going to help the middle class."
As for the scandal? "We look at all of these candidates. None is unblemished," argued Mr. Whye. "If this guy is gonna be good for this city, that's all that matters to me."
Brooklyn's Robert Greene, 59, acknowledged that there was a "stigma" hanging over Mr. Weiner's head, but agreed he was worth listening to.
"What he said today makes sense," said Mr. Greene, who also praised Mr. Weiner's performance in Congress. "The question is, are we going to look at a momentary indiscretion versus what he's done and what needs to be done today?"
Evangelis Campos, who lives in Brooklyn, said she also remained undecided, but thanked Mr. Sharpton for giving the fallen congressman a chance to speak.
"I believe that he deserves a second chance. I love him. I am a person that looks beyond people people's faults and sees their needs …. So thank God for Anthony Weiner," she said. "God is going to use him in a mighty way."