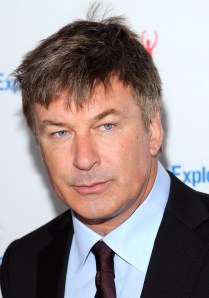 Alec Baldwin has deleted his Twitter account yet again, this time after an explosive rant on the social media site against a Daily Mail reporter who accused his pregnant wife of tweeting during James Gandolfini's funeral.
The 30 Rock actor chewed out writer George Stark in a series of abusive tweets on Thursday that ranged from the profane to the all-out homophobic, and he called on his followers to join in on the abuse.
The actor began by disputing the claim about his 29 year-old wife, Hilaria, before quickly adding a threat:
"Someone wrote that my wife was tweeting at a funeral. Hey. That's not true. But I'm gonna tweet at your funeral."
Mr. Stark wrote that the actor's wife, a yoga teacher, had been tweeting "upbeat posts" about an upcoming television appearance and possible wedding anniversary presents.
The messages soon took on more overtly violent tone, with Mr. Baldwin stating: "George Stark, you lying little bitch. I am gonna f%#@ you up," before attacking the writer's nationality: "My wife and I attend a funeral to pay our respects to an old friend, and some toxic Brit writes this f—ing trash."
The usually beloved comic actor's tweets then collapsed into homophobia, calling the reporter "A toxic little queen" and adding "(I'd) put my foot up your f—king ass, George Stark, but I'm sure you'd dig it too much."
He also called on his 1,062,605 followers to go after the journalist, demanding "I want all of my followers and beyond to straighten out this f*****g little b****." And unfortunately, many among them obliged.
The Daily Mail reports that Mr. Stark has received several "abusive messages." His Twitter profile has since been made private, but one can still see some of the vile language that was directed his way: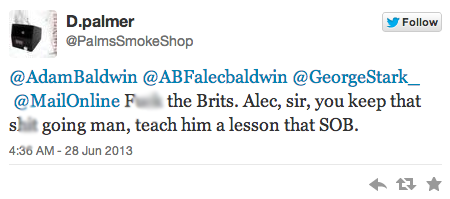 The 55-year-old actor is no stranger to public fits of rage. In 2007, he famously called his daughter, who was 11 at the time, a "rude, thoughtless little pig."
The last time he deleted his Twitter account was in July 2012, following a similar tirade against TMZ boss Harvey Levin for releasing the voicemail he sent to daughter Ireland.
His final tweet before leaving the site again questioned the veracity of the article:
"My wife DID NOT use her phone, in any capacity, at our friends funeral. Now, f—k this twitter + good luck to all of you who know the truth."
Here's hoping it's three and out for the embattled star.