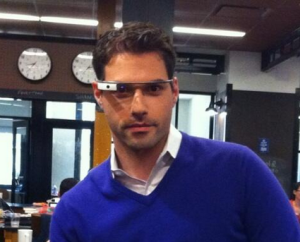 Google Glass is predicted to become the next "it" product, so start saving unless you prefer feeling like a total social reject. According to Forrester Research, more than 22 million Americans — or 12 percent — are expected to purchase Glass when it's released. In short, the $1,400 devices are on track to become as popular as the iPhone.
"Not since Apple's iPhone debuted in 2007 has a computing device attracted as much attention as Google Glass," the report stated. "We have no doubt that in time, Glass will be the next iPhone."
Unfortunately, the report coined a new term that makes "Glassholes" sound Shakespearian: "Glass Gravitators." They're a special breed of early adopters that will have their credit card ready when Glass is released in early 2014.
Commonly seen camping outside of Apple stores days before the new iPhone is released, the "Gravitators" are generation Y or Z nerds who crave the wearable technology for bragging rights. Doctors, farmers, and construction workers are also predicted to buy Glass, also.
However, Google needs to iron out Glass's shortcomings, like its short battery life and ugly design, until it becomes a mainstream product. But once that's accomplished, get ready for Glass to be most annoying thing on planet earth:
"Google Glass is a 'when,' not 'if' product," it writes. "We think it's just a matter of time until Glass takes off."
Who knew that Glass could also fly.
(H/T CNET)