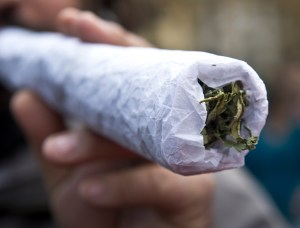 Like a real-life version of Weeds, Scarsdale divorcee Andrea Sanderlin has been arrested for running a "sophisticated," multimillion-dollar marijuana business from a Queens warehouse.
Ms. Sanderlin pleaded not guilty to the charges, and it looks like she'll attempt to milk her coiffed suburban mom image for all it's worth to evade the potential 10-year sentence.
Her lawyer, Joel Winograd, defended his client as a "full-time mom," while touting Ms. Sanderlin's pristine criminal record, the Daily News reported.
Ms. Sanderlin's alleged operation was blown in April when the DEA charged five men with growing and selling pot in two New York City warehouses. Unluckily for Ms. Sanderlin, one of the men tipped off police to her "state-of-the-art" pot business, documents state.
The police showed up to her warehouse on May 20, where Ms. Sanderlin refused to let them inside. After obtaining a court warrant, authorities discovered 2,800 marijuana plants inside, nursed by complex lighting and ventilation systems that would make any greenhouse maven jealous. They arrested her shortly after.
For Ms. Sanderlin's suburbanite friends, the news came as a shock.
"She seemed like every other mom," Scott Tarter told the Daily News at Twin Lakes Farm, where Ms. Sanderlin's daughter is enrolled in riding lessons. "I did find it odd that she hadn't been around for a couple of weeks. This is a complete surprise."
For now, as the verdict is pending, Ms. Sanderlin might want to consider other sources of funding for her lifestyle. After all, Mercedes SUVs don't just pay for themselves!