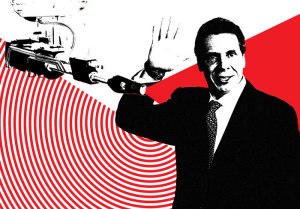 Earlier today, the Daily News revealed that an anti-Muslim plot to deploy a "mobile death ray" included none other than New York Gov. Andrew Cuomo. Needless to say, the publication–which ran an illustration of Mr. Cuomo being zapped by such a device, and with the caption "Run for your life Andy!"–didn't appear to take the threat too seriously.
Asked about the plot to kill him using the homemade, radiation-emitting device this morning, Mr. Cuomo seemed similarly amused.
"These extreme right wing nutsies!" Mr. Cuomo exclaimed in a mostly budget-focused The Capitol Pressroom radio interview with Susan Arbetter. "They think of everything!"
Mr. Cuomo then jokingly suggested he might be radioactive as a result.
"The death ray. My brother Chris had the best answer this morning. He emails me, 'Nazi death ray? Stay off my boat!'" he continued between laughs. "People think of everything … Stay away from me. You may get hit as collateral by the death ray."
It was not clear why the plot, hatched by a self-proclaimed Klu Klux Klansman, targeted Mr. Cuomo. However, according to the Albany Times-Union, one of the accused men, Glendon Scott Crawford, was "among hundreds of people across the state who were listed as plaintiffs in a lawsuit filed against Gov. Andrew Cuomo and the state Legislature challenging the constitutionality of the NY SAFE Act, which placed new restrictions on the sale and ownership of firearms."
Mr. Cuomo was reportedly never in any real danger.
This post has been updated with the NY SAFE Act association's connection to the case.