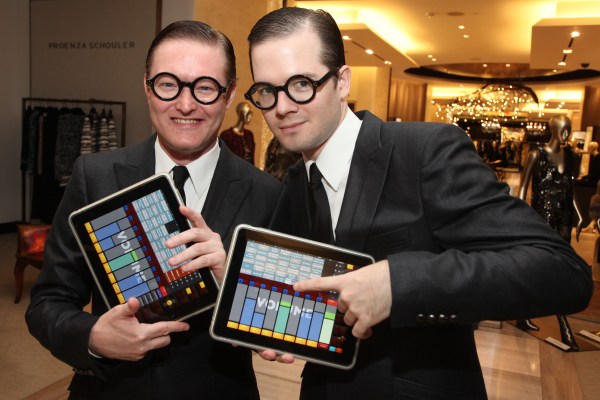 Last Wednesday night, the Transom found ourselves schmoozing with an intimate crowd at the Paley Center after the Peggy Siegal screening of the Morton Downey Jr. documentary, Evocateur. It was an eclectic mix of media personalities: Dan Abrams, Regis Philbin, Dick Cavett, Gloria Allred, Donny Deutsch and Richard Bey (whom we had at first confused for Jay McInerney until he started talking about the time he'd had Gennifer Flowers on his radio show). As we cast around for other familiar faces, we happened on two men wearing identical suits, glasses and slicked-back hair.
And thank God we did, because you know it's not a Paley Party until AndrewAndrew—the "iPad deejays/brand consultants," as they were referred to on Girls (although that leaves out the duo's other vocations as theater and restaurant critics, hosts of an East Village radio show, fashion designers and interior decorators)—show up.

Though their shtick would lead you to believe that there are no differences between the two men, who live together and dress exactly alike, that's bull. For instance, one is taller. The other is very passionate about the Citi Bike program, and can spend an entire car ride from Midtown to Pravda on Lafayette Street, where Andrew Saffir was hosting the after-party for HBO's Pussy Riot: A Punk Prayer, patiently explaining that "if we had a Citi Bike right now, we could [put] it into the back of this cab and take it with us."
It takes a certain kind of person to sustain what is probably the longest-running piece of lifestyle performance art in New York, and the fact that there are two of them makes the Andrews remarkably good sports about a random fan who attaches herself to their side for an evening. (Although one mortified documentary filmmaker confided to us outside Paley: "I didn't know that I wasn't supposed to ask them about being gay!" Well … yeah. But that's just a weird question to open with, no matter whom you're talking to.)
The two traipsed down Lafayette like princes among their subjects.
"AndrewAndrew, we love you!" one girl said. To which one of the consummate professionals responded, "And I love your shoes!"
Outside the Warby Parker showroom, a group of young hipsters fell over themselves to get a glimpse of New York's hottest deejays. "Hey Andrew, you were on my show!" screamed one lanky guy as we walked past.
We queried if he was talking about their cameo on Girls.
"Probably?" said non-Citi Bike Andrew.
"Look, see? They have the bike stations right next to Pravda!" said Citi Bike Andrew.
We wondered: was it true that there had been a prop-issue tiff on the Girls set?
"Oh that, that wasn't really a fight," laughed non-Citi Bike Andrew. "They wanted a shot that would show the club from our perspective at the deejay booth, so we set it up, and they brought us a bottle of champagne with glasses."
"But then they brought over these little cherries to go with it," continued Citi Bike Andrew. "And we were like, 'We would never have those.'" Apparently it struck a nerve with the duo's brand authenticity. Either way, the shot ended up being cut from the show.
But of course the boys are defined by so much more than their relationship with Lena Dunham. That much was obvious when we introduced them to the show's co-stars Alex Karpovsky and Billy Morrissette for the first time. (Hey, they were only in one scene.)
"What do you think about our idea to have theme holiday parties at the opposite time in the year?" non-Citi Bike Andrew asked. "Like, this Friday we're having Oktoberfest. And then we get Christmas in July, and New Year's Eve—and everyone can dress up!"
We admitted it sounded like fun, but what happens come February, when they'll have to find a suitable celebration that happens in August?
"Hmmm," they said, furrowing their brows in unison, which, we had to admit, was pretty impressive to watch, Citi Bikes or not.