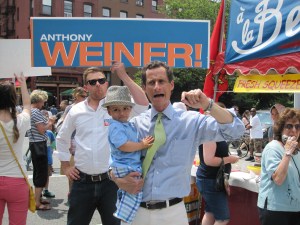 Anthony Weiner's 17-month-old son, Jordan, joined him on the campaign trail on Father's Day Sunday, earning the occasional "awww" as the former congressman greeted voters at a street fair in Park Slope, Brooklyn, where he grew up.
Little Jordan, decked out blue plaid pants and a stylish fedora, seemed unfazed by the crowd of campaign staffers and reporters who trailed his dad, who was juggling babysitting, posing for photos and urging Democratic voters to sign petitions to get him on the ballot.
"You're big-time upstaging me, bud," he told his son, who munched on a cheese crepe as photographers snapped.
"Any registered Democrats? Are you a registered Democrat, my friends?" called out Mr. Weiner, who was also joined by his 79-year-old father, Mort, and his stepmother at the Seventh Heaven Street Fair.
Overall, the reception was glowing for the comeback pol, with many passers-by stopping to share stories about being in Mr. Weiner's mom's class back when she taught high school math or reminiscing about growing up together in the neighborhood.
"You've got my vote," shouted one woman as she passed. "Hey Anthony, you're the only one that can win and keep us on the right track!" yelled another.
"We've got your back," said Dominick Mattina, 74, another resident, who had nothing but good things to say about the recently-announced mayoral candidate and said he planned to vote for him this fall. "I always liked him … The way he talks, the way he acts. And he helps the people out–that's the best."
Mr. Mattina dismissed the sexting scandal that forced Mr. Weiner to resign from Congress two years ago.
"That's all publicity. That's all it was," he said, suggesting the racy photos had been leaked by detractors. "People don't want him so they knock him down. They go chasing all their background. That's got nothing to do with the kind of person you are."
He also dismissed the other Democratic candidates running, including City Council Speaker Christine Quinn and Public Advocate Bill de Blasio, who lives in Park Slope himself. "A lot of them are B.S., you know?" Mr. Mattina said, painting Mr. Weiner as an outsider. "I don't trust them."
Maude Brown, who lives in Kensington, told Mr. Weiner that she'd urged him to run for mayor back when she met him years ago. "Finally!" she exclaimed, wishing him luck after signing his petition. "I never wanted him to resign. I would have toughed it out."
"He's fairly progressive. And I think for the city, they need somebody who's got a lot of chutzpah and charisma," said Ms. Brown. "At the moment, I would say he's my number one."
Myrna Tirado, 25, a former student of Mr. Weiner's mom who now works as a banker, also said Mr. Weiner had her vote. "I wish him the best of luck," she said. "I hope he wins."
She further praised Mr. Weiner for being "honest and truthful with the public," despite the fact that he repeatedly lied to cover up the now-infamous Twitter photo he accidentally sent out publicly.
"I just figured it was out of fear," she offered when asked about the attempted cover-up. "I mean, he was afraid, I guess, to let everyone now because he was afraid of what everyone would think. But at the end, he came out with the truth."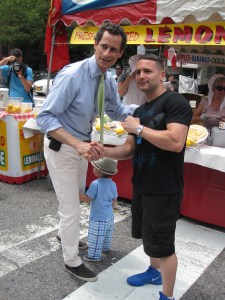 For his part, Mr. Weiner said the decision to bring Jordan along was simply the result of scheduling and said his wife, Huma Abedin, would be joining him on the campaign trail "soon."
"It was my day to watch him. Plus, it's Father's Day and we were visiting his grandfather in the neighborhood, so it worked out well," he told reporters after Jordan had been taken away by his grandparents, to Mr. Weiner's relief.
The lengthy street fair also attracted other politicians, including Senator Chuck Schumer, who was greeting voters just two blocks from the high-profile mayoral contender, but said he had no plans to stop by to say hello to Mr. Weiner, who once worked in his office.
"Much too early to talk about the mayoral race," Mr. Schumer explained. "So that's all I'm saying."