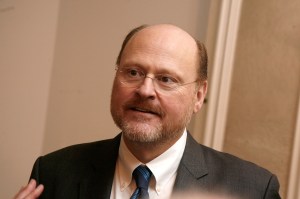 Anthony Weiner took his first major shot at Republican Joe Lhota on Sunday, saying the former MTA chair should have worked harder to give the city more control of its state-run transit system before stepping down to run for mayor.
"For too long the MTA has been here in New York City, but we have very little control over it," Mr. Weiner said at a Park Slope street fair, when a voter asked him what he would do to curb rising fares. "There's no accountability now. And we have to push back and we have to try to get some control."
Mr Weiner then pointed to Mr. Lhota, who resigned as the MTA's boss after leading the city through Hurricane Sandy. "There's a guy running for mayor right now who was appointed by the state to come in and kind of keep track of us all as the lord governor of MTA, when at the time we should have been saying we want control of that ourselves. And that's what I'm gonna push for every time."
The attack came in response to a question from hospital worker Adany Paulino, 24, who told Mr. Weiner that his commute from Harlem to Brooklyn had grown too expensive after several rounds of unpopular fare hikes.
Mr. Weiner later told Politicker that Mr. Lhota, a long-time friend, "was, I guess, doing his job as an appointee of the state," but argued it was hypocritical for him to now be calling for more city control.
"You can't be the MTA head for five minutes without realizing that New York City doesn't have the control that it should have. And that should be–if you're really doing your job–you know, you're working for the governor, and you're not working for the city." But, he said, "You know you can't now, after you leave the job, say, 'Boy, I wish the city had more control over the MTA.' That's kind of like, you know, 'Stop me before I kill again,' that kind of thing."
Mr. Lhota's spokeswoman Jessica Proud, declined to respond on the criticism.
"I'm going to pass on responding to him," she said.
Mr. Weiner and Mr. Lhota have known each other for years, with Mr. Lhota recently telling the Post, "Anthony's been a friend for a long time." Still, the two recently spatted over conflicting recollections of a conversation that took place before either jumped into the race, in which Mr. Weiner claimed the Republican candidate urged him to run for comptroller over breakfast and Mr. Lhota's camp said it was Mr. Weiner who had suggested the run over lunch.