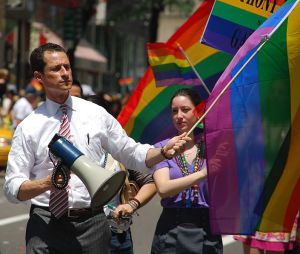 Former Congressman Anthony Weiner called City Council Speaker Christine Quinn yesterday to offer a personal clarification following criticism over the way he responded to an anti-gay slur directed against her.
Ms. Quinn, speaking to reporters Friday morning, said she'd received a message from her mayoral rival yesterday in response to the hubbub over a Washington Post story, in which Mr. Weiner was described as failing to admonition a voter who referred to Ms. Quinn as a "dyke" until he caught site of a reporter's "incredulous reaction." Since then, Mr. Weiner has condemned the woman's comment and insisted his response was swift.
"I received a call from Congress Member Weiner yesterday–a message. I was grateful in the message that he clarified the interaction," said Ms. Quinn. "I think it is incredibly important for all New Yorkers–but particularly those in public life–to make very clear that in this city, the most diverse city in the world, in the city where the LGBT civil rights movement was born, that that type of language cannot be tolerated."
She also called on lawmakers to reaffirm their commitment to speaking out against such slurs, adding, "I think all of us need to re-commit to making sure that whenever we hear language of any type that is demeaning, derogatory, racists, sexist, homophobic, anything of that nature, that we speak out against it."
Ms. Quinn, who was impressively mum on the topic when pressed yesterday, nonetheless continued to skirt questions about whether she felt Mr. Weiner's reaction had been appropriate–as well as whether his broader candidacy had been "disruptive" to the mayoral race, given he attention he's been receiving and her recent speech attacking him and the other candidates as all talk and little substance.
"What I was referring to is that what I think this race is about is delivering for New York … and delivering for New Yorkers isn't press releases–no disrespect–isn't press conferences. It's delivering," explained Ms. Quinn, who was then asked whether she felt that Ms. Weiner has "sort of usurped or sucked up some of the air out of the campaign."
"I think the folks' whose oxygen so-to-speak matters in the race is the voters," she responded. "What matters to the voters is what is the future of this city going to be … And what I'll tell you is what I've said Before: talk is cheap. There's a lot of people running who've issued press releases by the dozens, are really good at soundbites. There's no one else who has delivered … And that's what this race is about."