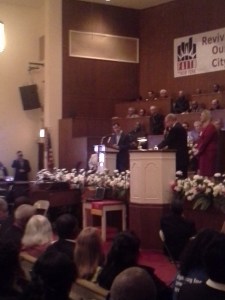 A revved up Anthony Weiner strode into a Baptist Church Thursday night and told a minority-heavy crowd that he would build bowling alleys and movie theaters in the Hurricane-ravaged Rockaways.
And he even, to enthusiastic applause, took on the jargon of a preacher.
"We didn't create any commercial infrastructure for jobs, no movie theaters, no bowling alleys," Mr. Weiner said at a Hurricane Sandy-focused forum hosted by Faith in New York, a city coalition of 53 congregations. "Brothers and sisters, it's not enough to say, 'Hey, I put a new boiler in,' if there's no place for young people to go out and get that first job … So we must not think of the Sandy aid just as way to build big walls around us. We have to put bridges into the next generation, we have to put bridges into our economic security."
The East Elmhurst, Queens church was packed to the brim and Mr. Weiner–the third mayoral candidate to answer a series of questions about how they would help the city rebuild after Sandy–seemed to steal the show yet again. While candidates including Comptroller John Liu drew cheers from the left-leaning, primarily black and Latino crowd, it was Mr. Weiner who appeared to fascinate audience members the most. His entrance into the spacious church, for instance, elicited murmurs and even muffled laughter from the crowd of several hundred.
"Well look, one thing that I'd say–and by the way, I apologize if I started to testify a little there," he added shortly after his "brothers and sisters" declaration.
"It's all right, you're in church," replied a forum moderator, grinning.
Mr. Weiner represented the Rockaways when he served in Congress before resigning in the wake of his sexting scandal, and in one of his first forays back into public life, penned a Daily News op-ed about how the region could recover from the catastrophic hurricane. On Thursday, he appealed for infrastructure and public housing improvements–but it was his call for a single-payer healthcare system in the city that drew the most applause.
"Never again in this country should you say because you don't have a full-time job or because you maybe got hurt at work or you're an undocumented person, that you don't get healthcare," Mr. Weiner said. "If I get the opportunity to be in charge of this city and this economy, I'm going to make sure that we–for the first time anywhere–have a single-payer healthcare system that covers all of New York."
"I like the sound of that, it would be nice if it happens," responded the moderator, as a wave of cheers passed through the church. Audience members, asked to "keep score" of all the candidates' responses, scribbled away.
After promising he would tour Sandy-wrecked communities with nonprofit church groups on his first day in office if he becomes mayor, Mr. Weiner agreed, like the other candidates, to go downstairs and greet spectators who were watching the forum in the church's basement.
"You guys downstairs, Weiner's coming down," he whispered into his microphone before he left.