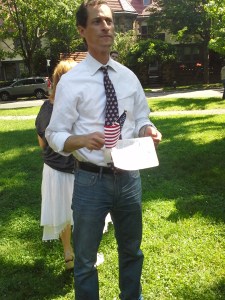 Anthony Weiner has traveled across the city's five boroughs since he announced his mayoral campaign last month, but only today did he visit his old Queens neighborhood of Forest Hills that he fled in the aftermath of his Twitter scandal two years ago.
Overall, the response to his homecoming was mostly enthusiastic, although there were some very prominent skeptics–including a retired cop who whispered to Politicker, "You're gonna like this question," before approaching Mr. Weiner.
"Mr. Weiner, how are you, I was a police officer," the paunchy, white-haired man began, just as the candidate wrapped up an amiable chat about express buses with another voter. "What if I did what you did online? Would you let me be a police officer?"
Mr. Weiner, stumping on the corner of Austin Street and 71st Avenue in the heart of his old congressional district, did not take long to answer.
"If you did something in your personal life? I don't know, maybe I would, maybe I wouldn't," he shot back, before turning away to schmooze with another resident.
The retired cop, who declined to give his name, soon slunk off, and Mr. Weiner's day resumed its happy narrative: Forest Hills's favorite congressman had come home to run for mayor.
Mr. Weiner said there was nothing bittersweet about campaigning in the central Queens neighborhood and claimed scandal-era memories of reporters camping outside his house were not on his mind. (He has since moved to a ritzy Park Avenue South address in Manhattan.)
"It's not strange, it feels very comfortable," Mr. Weiner explained. "Very comfortable."
"To a large degree, these are people who I know the best. But this is the lens through which I look at the city," he added later in the morning. "These are middle class people, people struggling to make it into the middle class, they just want a fair shake and want a sense that their government hears them and someone is there fighting for them. So this is where I'm comfortable and hopefully they're being so nice to me because they support the things I'm saying and doing."
Mr. Weiner, wearing a rumpled white shirt tucked into jeans and an American flag tie, first stopped at a Flag Day event at Forest Hills Gardens, a private community of Tudor-style homes, and then met voters on a crowded intersection nearby. Signing at least one autograph, posing for as many as a dozen pictures and discussing everything from the percentage of Obama voters in his old district to the Chicago Blackhawks, Mr. Weiner was remembered fondly by many of the voters passing by the sun-splashed street corner.
One man, shouting from a rattling car on Austin Street, even exclaimed, "Yeah, Weiner, that's what we need!"
Jeff Newman, a 38 year-old Forest Hills resident, was one of Mr. Weiner's more eloquent backers and shrugged off the scandal when asked about it.
"Why would I be bothered? We're all human beings. 'The most peculiar of all the perversions is abstinence,'" he said, quoting writer Oscar Wilde. "I'd be much more upset by someone who doesn't admit to their failings. I go on his record and how he stood up to the corporate Republican elites in Congress, that's what I'm voting on."
For Mr. Weiner, it was also one of the first times on the campaign trail a horde of press did not follow his every move. Only three reporters covered his Austin Street stop but their presence was never lost on the press-savvy, oft-snarky candidate.
"You'll use it, I'm sure of it," Mr. Weiner said to reporters after an older, bearded man begged Mr. Weiner to not "act like a mad man" in front of television cameras anymore. "That's the dynamic of the campaign, right there. That 300 people will come up to me and say something nice and that'll be the lead. It's cool, dude, you guys don't vote."
Mr. Weiner particularly seemed to relish the petitioning phase of his campaign. Rounding up his shy-looking volunteers, he told them, with a smile, that he would be watching them closely, perhaps alluding to his well-documented reputation as a demanding, micro-managing boss.
"Guys, I want to see your chops now. It's the first time you're doing it with the boss around. We have a test, okay. So it's sort of like taking batting practice with Ted Williams watching," he said, referencing the baseball player many consider to be the greatest hitter of all-time.
"You want to make eye contact," he added, scurrying to a woman on the curb and successfully asking her to sign his petition.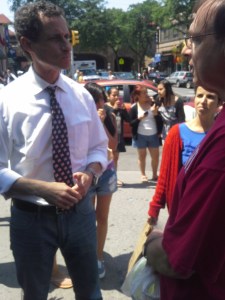 Even with his band of volunteers drumming up support, Mr. Weiner still has an uphill battle to reach Gracie Mansion.
"It's tough, I mean, he's brave coming back but it's not easy," said Nick Puglisi, a marketing consultant who lived within walking distance of Mr. Weiner's old Forest Hills home. "He's got to reposition his brand."
One particularly well-known local, talk show host and Forest Hills dweller Curtis Sliwa, directly summed up Mr. Weiner's dilemma.
"This is his roots, his constituents liked him," he explained. "People remember him for doing good constituent service. Whether the same people will want him as mayor, it's a mixed bag."