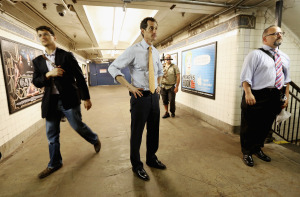 Anthony Weiner's Democratic rivals in the mayor's race have generally done their best to avoid talking about the sexting scandal that led to his downfall two years ago. Former Councilman Sal Albanese, however, has been the exception, and he directly confronted Mr. Weiner at a Queens breakfast forum earlier today.
"Before I get into that," Mr. Albanese said in response to an unrelated question about  funding local cultural institutions, "I just want to say that listening to Mr. Weiner is interesting because he's very glib and articulate. But … he's betrayed the public trust on several occasions and I think that disqualifies him."
Several audience members audibly voiced disapproval, saying in unison, "Ohhhhhh."
But Mr. Weiner ignored the jab. And, asked about Mr. Albanese's remark after the debate, he further dodged the question.
"Look, this campaign is going to be about the ideas of the middle class and those struggling to make it," he replied, pivoting to tout his understanding of what small businesses are looking for from City Hall.
Indeed, throughout the discussion sponsored by the Queens Courier and NY1, Mr. Weiner focused on what little substance could be squeezed into a forum with ten different candidates. Unlike an event last night, the former congressman offered no apologies for the scandal, but–as Mr. Albanese suggested–Mr. Weiner was rather glib in his answers.
Comparing himself to billionaire Republican candidate John Catsimatidis, he quipped he was speaking as a "thousandaire," for example, and he earned a New York Post headline by taking a crack at his beloved Mets.
"I would love to have major league soccer here in Queens," Mr. Weiner said about a proposal to build a soccer stadium in Flushing Meadows–Corona Park. "Heck, I'd love to have major league baseball here in Queens first."