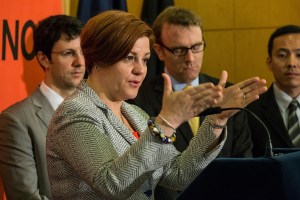 For the first time this election season, City Council Speaker Christine Quinn has dropped from first place and is now trailing Anthony Weiner in a major poll.
The latest Wall Street Journal/NBC New York survey, conducted by Marist College and released this evening, has the former congressman leading with 25 percent of the vote in the New York City mayor's race among registered Democrats, two years after he was forced to resign following a lewd sexting scandal. That's up 6 points from 19 percent last month.
Ms. Quinn, meanwhile, has dropped to second, with 20 percent of the vote–down from 24 percent in May–and marking her lowest showing since polling in the race began.
Also gaining ground is former Comptroller Bill Thompson, whose numbers rose slightly, to 13 percent, from 11 percent. Public Advocate Bill de Blasio is now in solid fourth place, with 10 percent of the vote, followed by City Comptroller John Liu, with 8 percent. Pastor Erick Salgado and former City Councilman Sal Albanese trailed with just two and one percent of the vote respectively.
It was just four short months ago that Ms. Quinn was polling a few points behind the magic 40 percent threshold a candidate would need to secure a primary victory without a run-off–a prospect seemingly spoiled by Mr. Weiner's late jump into the race. But many observers have wondered what Mr. Weiner's ceiling is, given his high negatives and the high number of voters who said he shouldn't even be in the race in previous polls.
But the latest survey finds that Mr. Weiner has expanded his potential voter pool, with 49 percent of Democrats polled saying they would consider voting for him–up from 40 percent in April, the Journal said. He also has the most loyal backers, with 45 percent of Democrats in his camp saying they are "firmly committed" to his candidacy, according to the paper, versus 34 percent who are all in for Ms. Quinn.
Mr. Weiner's lead also holds across racial and gender lines, with him besting Ms. Quinn–potentially the city's first female and openly gay mayor–even among women ever so slightly, at 22 percent versus 21 percent. In fact, only in Manhattan has Ms. Quinn hung onto her lead, the Journal said.
Ms. Quinn's spokesman, Michael Morey, said in a statement that his team remains confident, despite the drop.
"We fully expect the polls to fluctuate throughout the campaign, but we are confident that on Election Day when voters have to decide who they want to lead this city, they will choose someone who has demonstrated the ability to lead and deliver," he said.
Mr. Weiner's spokeswoman Barbara Morgan told the Journal, "This won't change our focus one bit. Anthony is going to keep talking about the issues and how to stand up for New Yorkers who want a middle class fighter in City Hall."
The poll of 1,118 registered voters, including 689 Democrats, was taken from June 17 through 21, and has a margin of error of plus or minus 2.9 percentage points overall, and 3.7 points for Democrats.