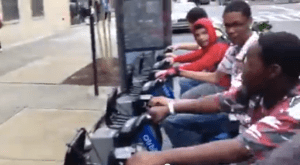 Dorothy Rabinowitz's worst nightmare is coming true.
The New York Times reported today on the latest anticapitalist development in the scourge that is Citi Bike. This morning Jim Pavia, surely an innocent, good person, stumbled upon a woman cheating the free-market system in all its glory–rather than paying $34 for one SoulCycle class, this woman had decided to get her spin session in atop a stationary Citi Bike. Shameful.
"She was going at a good rate," Mr. Pavia wrote for the Metropolitan Diary, obviously in shock.
A few passersby chuckled at the sight, likely a defense mechanism, but the woman was quick to retort. "Laugh if you want," she said, "but I never have to pay for a spin class again." Spoken like a true Commie.
It's really our fault, though. Ms. Rabinowitz warned us. In a segment last week, the Wall Street Journal editorial writer slammed the "blazing blue" Citibank bikes and predicted the impact of their anticapitalist agenda.
"Do not ask me to enter the mind of the totalitarians running this government of the city," she noted ominously.
It doesn't even matter that, given the bike's stationary position, riders can only pedal backward and without resistance, which makes for a pretty useless workout. New Yorkers, as shown in videos below, have already been infected with the totalitarian trend. SoulCycle didn't return requests for comment, perhaps because they're in lockdown mode over the impending loss of capital.
We were relieved to find, though, that some red-blooded, capitalist Americans are standing strong. In the article's comments, one freedom-loving patriot took a brave stand. "You just look like an idiot," Frank45 sounded off. "Why not just take the bike and actually ride it and get a real workout?"
We don't know, Frank45. We just don't know.
[protected-iframe id="50936306c13ac31095fceb073b023bb5-35584880-41847290″ info="https://vine.co/v/bY9vYXBL1Am/embed/simple" width="600″ height="600″ frameborder="0″]    [protected-iframe id="ceffad720d6d8a43e90e2a8ee3134d70-35584880-41847290″ info="https://vine.co/v/bLteBM3eHaD/embed/simple" width="600″ height="600″ frameborder="0″]
[youtube https://www.youtube.com/watch?v=EeCDD2rFDLI]