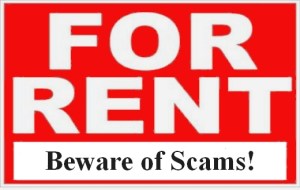 It's hard to rent an apartment in New York without feeling like you're getting ripped off. The exorbitant monthly rents, the brokers' fees, the multiple deposits—all in exchange for dwellings that are smaller and darker and more ill-suited to human habitation than those in almost every other city. Indeed it can be difficult to explain to out-of-towners that while, in a sense, everyone is being ripped off by the high cost of housing in this rapacious city, you are not literally being ripped off.
Of course, in a city filled with so many desperate apartment seekers, more than a few people do fall victim to rental scams. Like the 40 unfortunate would-be renters who each coughed up thousands of dollars to secure a phony rental in Chelsea.
In a con that Manhattan District Attorney Cyrus Vance called a "low-rent Ponzi scheme in a luxury apartment," Manhattanite Michael Tammaro used photos of his Chelsea apartment as a lure to steal nearly $200,000 from would-be renters. Tammaro, who pleaded guilty to second-degree grand larceny in February, was sentenced to three and nine years in prison. He has also been charged with a number of other crimes stemming check fraud he allegedly committed when he subletted the apartment while incarcerated after pleading guilty.
Over a period of six months, Tammaro used his skills as a professional photographer to lure apartment seekers, snapping photos of his own apartment, a luxury rental on West 20th Street. With high-quality photos and a Craiglist ad, he was then able to extract between $900 and $20,000 in phony deposits and rent checks from his victims, according to the DA's office. When confronted by angry would-be renters who suspected that they'd been duped, he sometimes paid back the money with cash he took from other victims. The ploy eventually fell apart when multiple people tried to move into the apartment on the same day, according to the DA's office.
If you're trying to pull a rental scam, it's probably not a great idea to use your own apartment as bait.
"The defendant has shown disregard for the well-being of his victims, who came from all walks of life – from exchange students to professionals—and from all over the world seeking housing in a borough with an apartment vacancy rate of under one-and-a-half-percent," Mr. Vance wrote in a statement on the sentencing.
And while would-be renters may have been guilty of naivete, there's no doubt that Tammaro was both aided and abetted by the insanity of the New York housing market. Whereas renters in other cities generally proceed at a pace slow enough to notice red flags, renters in New York are constantly being told that they need to come with cash and act with speed to have any chance of securing housing. And it can be hard to think critically, or at all, in a hyper-competitive market. Of course, using a broker provides a measure of security, but brokers also charge thousands of dollars for their services, which often amount to no more than agreeing to show an apartment in one of the buildings they represent, which is a scam of another sort.
What more could a real huckster hope for?
Another victim, apparently. While incarcerated for the rental scam, Tammaro listed his unoccupied apartment on Craigslist for real. Which might have seemed a step towards rehabilitation had he not allegedly snagged several of the subletter's checks when he was released by the court to pay back his victims. If convicted of the second crime, he will no doubt be spending an even longer time in prison. Good luck subletting that.