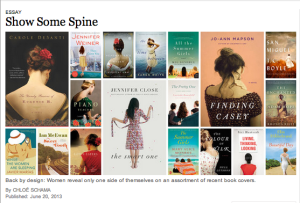 Have women's backs replaced galoshes as the go-to book cover image? Sure seems that way. There have been an awful lot of new books coming out lately that show a women's back on the cover, Chloë Schama notes in this weekend's New York Times Book Review. 
"A plague of women's backs is upon us in the book cover world," Ms. Schama writes. And she has the evidence to back it up.
Among recent titles featuring the back of a female torso from the waist up are  Finding Casey by Jo-Ann Mapson, The Unruly Passion of Eugénie R., by Carole DeSanti, The Headmaster's Wager by Vincent Lam and In One Person by John Irving.
And the trend isn't confined to the United States. On the British cover of Javier Marías's While the Women Are Sleeping, a woman is illustrated from behind, leaning on her arms in a bathing suit, looking in a hand mirror (about half her face can be seen in the reflection). The U.K. edition of Siri Hustvedt's 2012 essay collection Living, Thinking, Looking shows a woman, waist up, clad in a short-sleeve red dress.
Sometimes its a full female form shot from behind. The Beautiful Day by Elin Hilderbrand shows a bride from behind, and Jennifer Close's The Smart One features a woman turned away, unwrapping her wrap dress.
There are certainly more than enough examples here to make a convincing trend piece. And Ms. Schama's thoughtful analysis of the trope is welcome.
But not so long ago, the same was true of galoshes. That book cover trend, which supposedly originated with The Girls' Guide to Hunting and Fishing, Melissa Banks's 1999 bestseller, meant that at the dawn of the millennium (and for a solid time after) many a book marketed to women was signified with a pair of rain boots.
So the real question is: do cover images of women's bodies, albeit shot from behind, signify progress from the days when book covers featuring childlike but useful protective weather gear?