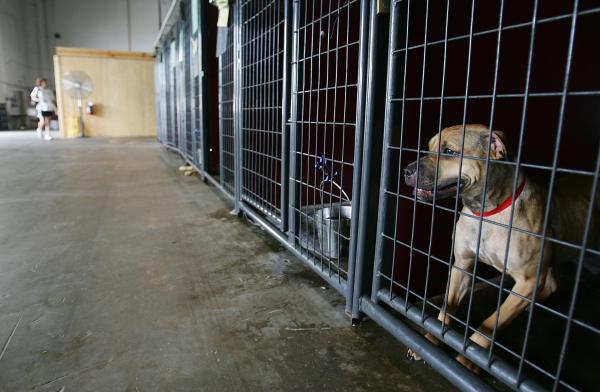 Seven pit bulls were rescued from a Brownsville apartment where officials say a highly-organized dog fighting ring was based.
Upon entering the apartment at 836 Boylan St, investigators found the makings of a large scale dog fighting operation. Law enforcement officials told DNAinfo, that they found 25 dog kennels, an animal treadmill, and modified hanging scales with a rope attachment used to strengthen dogs' teeth and jaws. They also found syringes and narcotics used to keep the animals "jacked up" for fighting.
The ASPCA dispatched their "Blood Sport Unit," used to investigate animal fighting rings, as well as a Forensic Medical Team to examine the pit bulls for scars and wounds in order to determine how long the animals have been victimized.  The dogs showed signs of bite marks and scars along their bodies.
Prosecutors are planning to use the information found by the ASPCA to build their case against the operators of the dog fighting ring.
Wesley Alexander, 39, who lived in the apartment, was arrested on weapons possession and animal cruelty charges, including torturing and overdriving animals, failure to provide proper sustenance to animals, and marijuana possession. Cops recovered a .40-caliber handgun, several ammunition clips and marijuana from the scene, sources told DNAinfo.
Mr. Alexander was released on $7,500 bail.