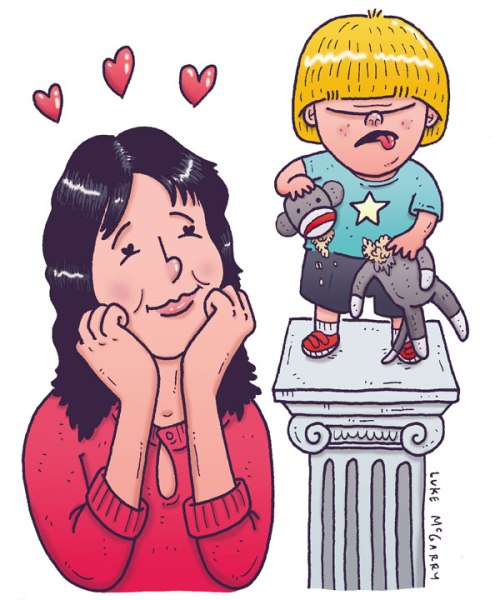 I have, for better or worse, the opposite of a stage mother. It's not that my parents didn't think I was secretly brilliant as a child—thanks to the educational Disney cartoon Ben and Me, I could recite the Declaration of Independence before I was out of diapers—it's just they just didn't seem to care what I became when I grew up, so long as I voted Democrat and understood that my "life partner" was not obligated to have a Y-chromosome.
I only noticed their indifference because my best friend growing up in Chelsea was a child actor who was tragically let go after the Roseanne pilot, reportedly for having a beef with Sara Gilbert. Since I often accompanied him to his auditions, I actually had a few agents approach me to slap my mug on Shrinky Dinks boxes and the like, offers at which my mom just rolled her eyes. This was circa 1983, but I'm sure she'd roll them much harder right now, 30 years later, if she knew that I recently sent photos of her grandson to a Gap casting call.
I KNOW. I swore I'd never be that parent, the one who gazes beatifically at her toddler bashing a rock against a white picket fence and thinks, catalog model! But it's legitimately hard to not view your kid as exceptional in every way; in my experience, procreating is like donning a pair of person-specific permanent beer goggles. 
So if Sam's model-slash-acting career fails to take off, there's always the NBA. For months now, my son has had an obsession with basketball that my relatives and I observe with restrained glee. Glee because there hasn't been a jock in our midst since I faked an ankle injury to disqualify myself from the high school cross-country team, and restraint because the tallest person in my immediate family is 5-foot-7. The good news, though, is that Sam has also kicked a soccer ball on at least three documented occasions, prompting me to wonder when FIFA World Cup tickets for 2034 go on sale.
Luckily, even if Sam does follow in my limping footsteps and develops a healthy, paralyzing fear of organized sports participation, he'll always have his music to fall back on. Once a week, he joins a group of (in my unbiased view, much less creative) toddlers for a class called "Music Together," in which he expresses his innate rhythm by heaving a maraca at the carpeted floor, more or less in time to a folksy soundtrack that recalls early Peter, Paul and Mary, had they had access to venti double-shot lattes.
My son deepens his musical explorations at home, where he often uses a wooden xylophone to bang at the keys on a miniature piano, kazoo hanging out of the corner of his mouth like a cigarette, a sort of instrumental turducken that I'm sure delights our downstairs neighbors to no end.
It heartens me to know that I'm not alone; friends, too, put positive spins on their kids' questionable behaviors. One friend has a son who can't stop sticking his hands in other people's mouths … but surely he'll be a dentist, right? Another confesses that during her 3-year-old daughter's marathon Sesame Street sessions, she fantasizes about accompanying her to some far-off Emmys ceremony, finally awash in the relief that all of that screen time was justified.
Even tantrums can become promising signs that a child is emotionally free enough to become a great actor or DMV employee. Recently, I was standing behind a woman and her young son in line for a food truck that sold, among other things, chocolate-drenched waffles, and when she denied his repeated requests for the decadent treat, claiming they were too messy, he threw himself prostrate on the hot pavement and wailed tearfully, "That's not a good enough reason!" The woman looked nervously around at us onlookers and laughed, "He'll make a great lawyer someday." She was joking, of course, but I saw the hope in her weary eyes.
Of course, there are moments when fear creeps in, the fear born of too many viewings of The Omen. Sometimes I catch myself wondering, What if my child is different … in the bad way? I am thinking specifically of a moment last week when Sam picked up a stuffed monkey and began methodically smacking him in the head with a toy hammer—a hammer that, just days earlier, I had been convinced was a sign that he might make like Jesus and take up carpentry.
But then Sam drops the hammer and grins impishly, and I notice again how photogenic he is. Which reminds me, I should probably resend those photos to the Gap. Clearly they never arrived.
Author's Shameless Self-Promotion: In the first grade, I wrote a book called When Cathy Learned Sign Language on pieces of cardboard, which I laminated and bound with staples. In sixth grade, I wrote a novel (on looseleaf paper, 42 pages, more of a novella, really) called Kidnapped (my apologies to Robert Louis Stevenson, but Google didn't exist then and I was only 12). I'm not sure if my parents ever thought my self-publishing career would amount to anything, but they can FINALLY exhale, because last month I became a bona fide published author. My debut novel, Five Summers, is available now at online retailers like Amazon and even in actual bookstores.