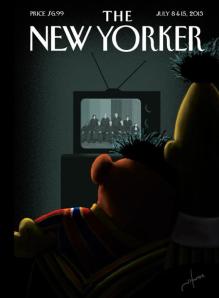 Next week's New Yorker cover, which was unveiled today, commemorates the repeal of DOMA with a drawing featuring Bert and Ernie, Sesame Street's bickering odd-couple roommates who have long been the subject of gay rumors, cozily watching the Supreme Court decision on a black and white television. Seems relatively innocuous, right?
Wrong. The cover has sparked Internet controversy and outrage.
One central objection is that the muppets are not gay. They are muppets on a children's television and as such do not actually have a sexual preference. 
"Bert and Ernie are best friends. They were created to teach preschoolers that people can be good friends with those who are very different from themselves," Sesame Workshop said in 2011, in response to a petition to get the muppet roommates married already.  "Even though they are identified as male characters and possess many human traits and characteristics (as most Sesame Street Muppets™ do), they remain puppets, and do not have a sexual orientation."
The New Yorker commented on the controversial cover by quoting the artist, Jack Hunter, who originally submitted his image, unsolicited, to a Tumblr (although, as Gawker noted, he actually submitted the image over a year ago-which is maybe neither here nor there?).
"It's amazing to witness how attitudes on gay rights have evolved in my lifetime," Mr. Hunter told The New Yorker about his cover. "This is great for our kids, a moment we can all celebrate."
But not everybody is celebrating the New Yorker's depiction, including the New Yorker's commenters.
Some have weighed in, opining that sexualizing puppets undermines that struggle for equality.
"Are these America's most recognizable gay icons? Because that's a shame," Tyler Coates wrote on Flavorwire. "We deserve better — we at least deserve to be identified and recognized and treated with respect rather than belittled with the cheap and easy imagery used here."
Slate agreed, although the objection is slightly different. "Does America contain households in which lovers pass themselves off as best pals? No doubt," June Thomas wrote on Slate this morning. "And as prejudice against gays and lesbians fades, more of these ambiguously gay couples will declare themselves. But that doesn't mean that every pair of co-habiting friends is madly making out on a nightly basis."
 Others, on blogs and on Twitter, have taken a pro-New Yorker cover stance.
"Even though Bert and Ernie officially aren't gay, next week's cover of The New Yorker features Sesame Street's not-gay gay cultural icons celebrating this week's Supreme Court rulings, which is sweet if you don't overthink it: America's most famous men in love finally have the official acceptance of America," Rebecca Greenfield wrote on The Atlantic Wire.
Ms. Greenfield optimistically concluded that we should "not over-analyze this wonderful cover."
No chance of that. Whether the cover is wonderful or offensive, there is no way it won't be analyzed to death.