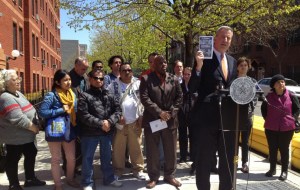 Public advocates have long been criticized by opponents for using the office as a platform to run for mayor, and Bill de Blasio is no exception. The latest example comes after Mr. de Blasio unveiled a lengthy policy book outlining his proposals last week. This time, critics zeroed in on the many photographs donning its pages.
It turns out that more than a dozen of the 40 photos in the book came from events the candidate attended in his official capacity as public advocate, or were official photos promoted by his government office on its Flickr, Facebook and Twitter pages. In many, Mr. de Blasio is pictured standing behind a podium with a government seal. In one, he holds a copy of a housing plan produced–a critic noted–with taxpayer  money.
"This isn't the first time Bill de Blasio has used his official office–and your tax dollars–for his own political gain," one rival campaign charged in a missive. "Voters thought Bill de Blasio was advocating for them, but page by page they can see he is just advocating for himself."
Another rival, former City Councilman Sal Albanese, who has previously criticized Mr. de Blasio for hiring staff with political backgrounds, also jumped on the criticism.
"Am I surprised? Not at all," he said in a statement. "Bill spent $576,000 to hire campaign staff on his public payroll. He's abusing taxpayers dollars left and right. He should have to pay that money back."
Despite the alleged bad optics, though, the practice is perfectly kosher–if a campaign is careful–according to a recent advisory opinion from the city's Conflicts of Interest Board.
"The offices of some elected officials employ staff whose duties include taking photographs of the elected official performing his or her official duties. These photographs are the property of the City and as such may be used only for City purposes," the board wrote in the opinion, dated December 2012.
However, the board said that those images can be used in the context of a campaign, if certain conditions are met.
"The Board advised that these photographs may be provided to a campaign only if they are made available to the general public, and then only on the same terms," they wrote. "Furthermore, if such official photographs are in fact provided to the general public, they must be provided to the campaign pursuant to the same process by which a member of the general public would obtain them; for example, the campaign may not jump the queue."
A spokesman for Mr. de Blasio said that all of the images used in the book were, indeed, publicly available via the public advocate's Flickr page or other sources, but declined to comment further.
Mr. de Blasio, of course, is also not the only candidate who has used photos from his government gigs to tout his candidacy.
Republican Joe Lhota has frequently used images taken while he was serving as chair of the MTA as well as deputy mayor in the Giuliani administration. But other candidates, including City Council Speaker Christine Quinn, appear to have shied away from the practice, perhaps to avoid the appearance of a conflict of interest or because they prefer pics taken by the campaign instead.
Update (5:14 p.m): A spokeswoman for City Comptroller John Liu also weighed in on the issue, arguing in a statement that, "Campaign materials should not be produced with any city resources. Simple as that."
Also, it should be noted that Ms. Quinn does appear to have included two council photos in the lengthy autobiographical video her campaign released formally launching her candidacy.