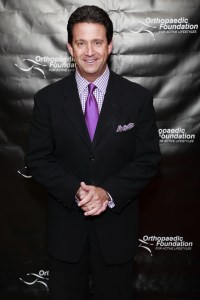 A WABC weatherman's manhood was injured during a testy tussle with his estranged wife, court documents have alleged.
Channel 7 Meteorologist Bill Evans claims that his wife, Dana, scratched his testicles during an epic brawl on May 4 at their Greenwich, CT home, according to an affidavit obtained by The New York Post.
Mr. Evans, 52, claims that he returned home from a charity event to the couple's $2.5m mansion, only for his wife to belittle him in front of their children, telling him "that he does not live there nor is he wanted there." His daughter then asked him to move the car. A fight over the keys resulted in a frenzied attack from his wife, with whom he has been involved in divorce proceedings since 2012.
The fight took a slapstick turn when she apparently tried to "karate kick" him, and fell over on a polished hardwood floor. It was then that the alleged testicular take-down occurred, as Ms. Evans "grabbed the waistband of his underwear and reached for his scrotum with her free hand, subsequently scratching it (his scrotum), which resulted in bleeding."
Ms. Evan's version of events unsurprisingly differ, placing most of the blame squarely on her Emmy-Award-winning husband of eighteen years.
She apparently asked him to move the car, and when she tried to get the keys herself, he grabbed her, kicked her to the ground and proceeded to punch her. She then used a coat hanger in self-defence.
The only thing the couple agree on is that the fight stopped when they realised their children were outside. They have both been charged with disorderly conduct and assault.
Here's hoping this storm blows over soon.