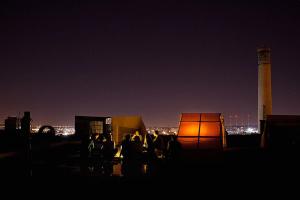 "When you step onto a rooftop," Thomas Stevenson explained, "things down below disappear. It's levity."
Such is the essence of Mr. Stevenson's "Bivouac"—a participatory art project in which New Yorkers find solace for one evening in campsite far above ground. It's not exactly the great outdoors, but this weekend, those who sign up can experience what this artist deems an escape from the daily pressures of urban life.
"I've been doing this for two years now, and I can never guarantee anything that's going to happen," he said. "People—different people—are coming together to share their stories, and it's wonderful."
Starting Friday at sunset, campers will convene on an undisclosed rooftop, carrying with them a sleeping bag and one assigned food item for a communal meal. It's the bare minimum, to be sure—no showers, no electricity, no WiFi—an embarrassingly foreign proposition, but for Mr. Stevenson, the project's most essential facet of all.
"Over-connectedness is something I'm not a fan of," he said. "We've gotten to the point where we're comfortable answering work emails regularly at 3 a.m. I mean, imagine someone like Don Draper having to answer a work call that early—he'd be like, 'Are you kidding me? Go away.' We all need that distance."
Here at The Observer, we certainly think he's on to something. But roofs are tall, and kinda scary, so we had to ask—how do you prevent completely incompatible tentmates from, um, hanging the other to dry?
Mr. Stevenson, in response, describes Bivouac's participants as self-selecting, with an undeniable "psychographic similarity" between them. Such is why campers ranging from an Australian tourist in his 20s to a top female attorney quickly find common ground against the backdrop of the Manhattan skyline. "People mesh pretty easily," he added.
Ultimately, after one conversation with Mr. Stevenson, it's quite clear that the project's foundations are rooted in far deeper philosophical premises. But at its most basic point, the artist envisions the evening as a simple, fun way to depart from the monotonous.
"You'll wake up the next morning. Your friends have just finished their normal rounds at bars, a few reruns of late night TV. They'll ask, 'Hey, what did you do last night?'…. 'I camped out on a rooftop,' you'll say. 'Let's talk about that.'"