There are renovations, and then there's 45 East 74th Street.
Originally built in 1879, the Upper East Side townhouse was tragically disfigured in the 1950s by a renovation that removed its stoop, stripped it of its cornice, clad it in boring red brick and punched holes in its lackluster façade for air conditioning units. But after an extensive mutli-million dollar renovation, the property—now a stark, white, limestone-faced structure that makes its prewar neighbors look frumpy in comparison—is asking $30 million.
Valerio Morabito, an Italian with a familial connection to the construction industry bought the property back in 2009 for $10 million (shielding himself behind Antarctica LLC), then proceeded to pour nearly $10 million into the building, giving it a Joseph Pell Lombardi makeover.
"It's amazing actually," said Town Residential broker Jason Karadus, who shares the listing with Brett Miles and Robson Zanetti. "Pretty much everything was brought over from Italy" by Mr. Lombardi, who got his start doing large-scale historic renovations like Liberty Tower, one of the first residential conversions in the Financial District, over three decades ago, before moving on to smaller, townhouse-scale projects in the recent years.
"He loves 19th century buildings, he loves old New York City architecture," Mr. Karadus told The Observer. "He loves old architecture and completely refurbishing it, with a lot of Italian materials and a European sensibility."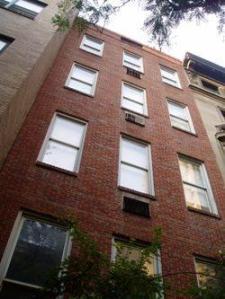 And what a renovation $10 million buys! The front yard has been fenced in with a balustrade ("ornamental Doric columns," quoth the listing), a stoop has been reinstated, the windows have regained their stately pediments ("cut from solid blocks of cream-colored limestone") and the home has been re-crowned with a modest cornice—always one of the most difficult classical elements to replicate. And of course the façade has been redone in "handcrafted Italian Caliza Capri limestone," according to listing, with a blinding blanch that wouldn't look out of place in a posh central London neighborhood like Belgravia.
And that's just the outside. Inside the home features a "swimming pool clad in Bisazza Mosaico glass tile finishing with a waterwall illuminated by skylight," "Caliza Capri limestone-clad entry hall," "pool room with Navona Travertine slab walls and floors" and so many Italian names that we were left feeling both impressed and bewildered.
Would-be buyers may have some room to negotiate on the price, which has already been reduced slightly from last year's $33 million ask. The seller, Mr. Karadus said, "is very motivated."
That said, "there's very little out there like this," he continued. "And even from a year ago, the market has climbed considerably."