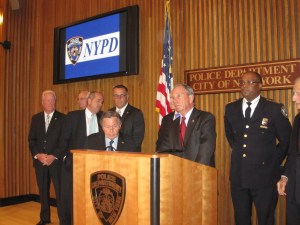 Mayor Michael Bloomberg and Police Commissioner Ray Kelly threatened in their starkest terms to date today that two police reform bills headed for passage will compromise public safety–enabling terrorists, criminals and gang members–but refused to place the blame on the City Council speaker, who is allowing the bills to go to vote.
Mr. Kelly and Mr. Bloomberg, joined by more than a dozen law endorsement officials at police headquarters, pointed to the city's record-low shooting and murder rates, and warned the safety gains the city has won are at risk of being blundered if the bills, which would create an inspector general over the NYPD and expand the definition of racial profiling, are passed by the City Council.
"What we mustn't have is what these law would create: a police department pointlessly hampered by outside intrusion and recklessly threatened by second-guessing from the courts," said Mr. Bloomberg, urging Council members to reconsider their support for the bill when it comes to vote Wednesday. "To jeopardize the lives of kids going forward is just, I would argue, unconscionable."
Mr. Kelly echoed the message, saying the bills would "upend" the city's progress fighting everything from shootings to gangs to terrorism.
"Despite repeated attempts since 9/11, terrorists have failed time and time again in plots against New York City. But take heart, Al Qaeda wannabes. Because the City Council has found a way to undermine our partners that the NYPD has carefully constructed over the past decade," he said, pointing domestic and foreign "entities," which he said have helped to keep the fcity safe. "If you think our partners will stand idly by a review of their own sensitive operations by an ill-conceived notion of an inspector general, think again. They will simply walk away."
"The gains have been paid for in blood," he said later, pointing to the 18 police officers who have died in the line of duty since 2002. "In their names and the names of their loved ones, and the names of every innocent victim of violent crime, we stand together today to oppose this misguided legislation."
The Council was expected to vote Monday on two motions to discharge, a procedure that will allow the bills to circumvent the council's Public Safety Committee, where the committee's chair, Peter Vallone Jr., is currently blocking them from moving to the floor. It will mark the first time the tactic has ever been used under City Council Speaker and mayoral candidate Christine Quinn's tenure–and the first time she has ever allowed a vote on a bill she opposes. While she supports the IG bill, she has been critical of the profiling provision, which would also permit those who feel they have been targeted to sue the NYPD in state court.
Mr. Kelly said the bill would result in "a devastating diversion of police resources" and so many "frivolous lawsuits," that "its sponsors may well have called it the 'Full Employment for Plaintiffs' Attorneys Act."
"If you are young, you have standing to sue," he added. "If you are male, you have standing to sue. If you're in a street crew, step right up and file your notice of claim. If you live in a high-crime neighborhood? Ditto."
Ed Mullins, president of the Sergeants Benevolent Association stood out among the group in blaming the legislative push on election-year politics. And while he didn't mention Ms. Quinn by name, he made clear his remarks were aimed at her by citing two of her positions: He asked how it was possible a candidate could want to keep Mr. Kelly on as police commissioner, while at the same time it was necessary to have  someone watch over him.
But Mr. Bloomberg, who is widely believed to be supporting Ms. Quinn's candidacy, despite their disagreement, refused to echo Mr. Mullins.
"I think we have been clear from day one: We think these are both ill-considered bills which would put the public and our police officers in real, serious danger and could reverse the striking, dramatic and wonderful reduction in crime this city has experienced over the last 10 years or 20 years," he said, when asked by Politicker whether he had personally reached out to her to try to change her mind.
"We're not gonna get involved in the mayors' race," he later added. "That's just not what this is all about."
Proponents of the bills, who gathered for a rally on City Hall steps before Ms. Bloomberg spoke, have long argued the measures are necessary to reign in alleged abuses by the police department, including the over-use of stop-and-frisk. They later accused Mr. Bloomberg of blowing fears out of proportion.
"Another day, another set of lies and more fearmongering from the Bloomberg administration on the Community Safety Act bills," Communities United for Police Reform spokesperson Joo-Hyun Kang said in a statement. "While the City Council is taking constructive steps to protect the civil rights and safety of New Yorkers, Mayor Bloomberg is trying to find a new scare tactic because he has no credible argument on the actual merits of the bills. It's unfortunate, irresponsible and it's not leadership."