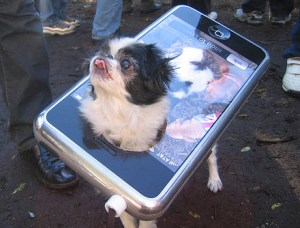 Your good-for-nothing pets are not only a drain on your wallet, but they're ruining your electronics at an alarming pace. Last year, more than eight million pieces of human technology were eaten by cats and dogs, with cell phones accounting for a third of that number.
SquareTrade Inc., a company that sells electronic warranty plans so you know there's no ulterior motive here, surveyed 1,200 pet owners about how their cats and dogs damage their devices. It found that two-thirds of pets chewed their gadgets and 21 percent said that a lunging cat or dog caused them to drop their device. 
Oh, one in six presumably traumatized pet owners said their pet has "thrown up or gone to the bathroom on one of their electronics."
Time dug up other results from SquareTrade's fancy infographic:
Here's one you probably weren't expecting: You're 72% more likely to have a device damaged if your pet is fat; here's one you probably were: Male pets were 50% more likely to damage a device than female pets. Another non-surprise: If your pet is overprotective, it's twice as likely to damage a device.
The warranty-issuing company estimates that pets cause around $3 billion in damage a year. To prevent this, it smartly suggests to pay attention to your pets, use a protective case, and of course, always buy the warranty.
You can always just give your pet a toy, too.