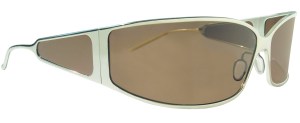 Dressing for summer events can present a particular challenge for New York men, especially if they are used to relying on the brothers Brooks for the daily armor of business life.
Soupy summer weather, when humidity and the thermometer both top 80, does not afford menfolk comfortable options like strappy sandals or a cooling sun frock. Instead, they find themselves locked into the familiar summer wardrobe of the East End roué: sockless loafers, shapeless Nantucket red shorts, and maybe a blazer with jaunty gold buttons over a sternum-baring dress shirt. Lobster belt optional.
Montgomery Frazier, known professionally as the "Image Guru," helps men on the social circuit avoid looking like they dressed out of the Hampton Jitney lost-and-found box. In his 30-year career, he has worked with entertainment and fashion clients from MTV, Madonna and Katie Couric to David LaChapelle, Mario Testino and Patrick DeMarchelier.
His tips for dressing this season: "Don't be afraid to wear vibrant colors, color blocked pieces, textural fabrics, or interesting and different silhouettes and patterns. Men's accessories are also on the rise, from neckerchiefs to walking sticks. Just look to trend movies like The Great Gatsby for looks that even the most conservative dresser can choose from."
Here, Mr. Frazier puts together wardrobes guaranteed to pop for three summer social situations.
POLO MATCH
As a spectator experience, Bridgehampton polo has its pluses and minuses. There's usually a fair bit of mud underfoot and less than ideal bathroom arrangements, with a breathable atmosphere of status anxiety that can feel like being locked in Downton Abbey with the gas on.
On the upside are free-flowing Champagne, ample opportunities for social climbing and the spectacle of sweaty Argentine polo bums changing their shirts between chukkas. On balance, it's a win.
"I would build an outfit around a wonderful Thom Browne green madras checked prep school blazer, which is lightweight enough for being out in the hot sun at a polo match," says Mr. Frazier. "Then I'd put it with a pair of Thom Browne grey whale pleated shorts, so your legs can also tan whilst you're baking in the hot sun."
Mr. Frazier recommends Thom Browne white and grey nubuck suede brogues "to butch up that schoolboy look." And since Bridgehampton in July and August is invariably steaming with humidity, "add a cotton madras neckerchief from Ralph Lauren to soak up your sweat, and a pink cotton madras pocket scarf from Peter Elliot."
"The last Thom Browne item would be some hugely cool matte grey Wayfarer glasses," he says. "I'd heavily splash on Gendarme men's fragrance, which smells so fresh and clean, and throw on a straw hat!"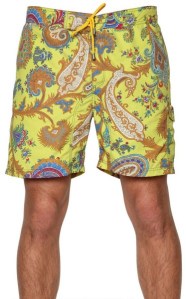 HAMPTONS POOL PARTY
The Hamptons parties of your imagination are lavishly catered, attractively deejayed, and have a long enough lawn that the mansion doesn't cast its shadow on the pool until after 6 p.m. The ones you're actually invited to feature red Solo cups and a hostess in a leopard-print beach-wrap who's snockered by three o'clock. Still, that doesn't mean you can't dress up.
"Pool parties should only be attended by people who actually wouldn't mind getting wet," says Mr. Frazier. "This kind of 'I'm gonna jump or get pushed into the pool with my clothes on' kind of party requires an outfit that's quirky and fun."
From the Etro Spring/Summer 2013 collection, Mr. Frazier selects the "Long Island" paisley nylon swim shorts (John Bartlett scarf optional), paired with  sensible rubber shoes with perforated holes from either Native or Cole Haan, available in a myriad of colors. "Finish off the look with some Christian Roth eyewear—preferably clear tinted frames, to complement your coordinated color scheme. Select the appropriate Anne Moore hat, throw on some lavender fragrance from L'Herbologica, which I believe is available at The Bathroom in the West Village, and you're good to sink or swim!"
EVENING WEDDING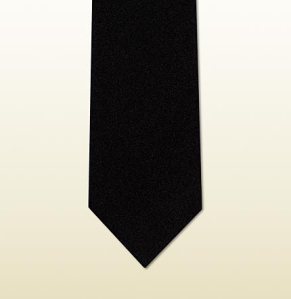 At some weddings, the only visible color is on the bridesmaids, whose palette can resemble the display case at a Baskin-Robbins. Last year I attended one such extravaganza with a dozen ladies whose coordinated pastel outfits made the event look like a Lawrence Welk reunion.
"As a die-hard peacock, color is what makes me happy," says Mr. Frazier. "I love the limoncello-colored two-button blazer from Ferragamo men's Spring/Summer 2013. I would build an outfit around the color scheme of limoncello yellow and black or midnight blue for evening wedding, but I would select a lovely pair of crisp white slacks from one of my newest favorite fashion retailers, Joe Fresh, because their lightweight pants fit like a dream and the prices won't break the bank, since you just spent around $1,400 on the Ferragamo jacket."
"I'd  match a crewneck sweater, also from Joe Fresh (they have the purest, brightest color dyes there),  add a crisp white shirt from Brooks Brothers, tuck in the sweater (à la Gatsby) and opt for a black or midnight blue satin tie from Gucci," he says.
The black patent leather evening shoes should come from Donald J. Pliner, with a white cotton pocket scarf from Dunhill and a black patent leather belt from Ralph Lauren. And for the bling, "black diamond cuff links with a matching black diamond ring from David Yurman," Mr. Frazier suggests.
"Splash on some Donna Karan Chaos fragrance, and I'd be all set to part-eee and/or weep with the rest of the guests."
editorial@observer.com