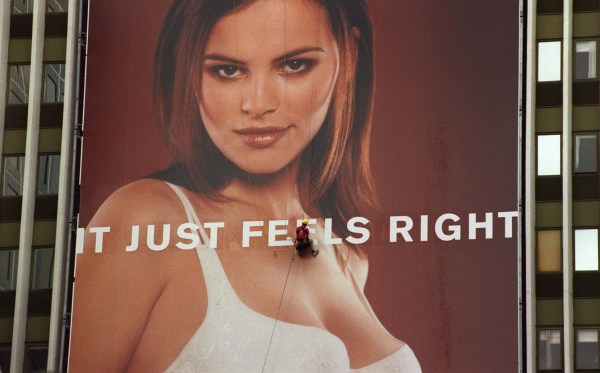 This was all for education, I told myself, even as my hands kept trying to cover my chest while I was being asked whether I knew which one of my breasts was bigger than the other. Ms. Caldwell was cheerful and encouraging, but it was hard not to feel embarrassed … and then embarrassed for feeling embarrassed.
"You have unusual proportions," she said after assessing the fit and tightening the band by two inches, which had the side effect of increasing my cup size by two letters. (Cup size is based on the ratio of the fullest part of the bust to the below-the-bust ribcage measurement.)
When she clasped me into the first bra—a black lace bra by Felina—I swear I heard a rib crack somewhere. Apparently, bands need to be kept almost tourniquet-tight in order to provide that "perky" look.
My pain was forgotten the moment Ms. Caldwell turned me around to the mirror. Va-voom! Where had these twins been all my life? For the first time since puberty, my immediate instinct wasn't to slouch over like the Hunchback of Notre D-cup. A weight had been lifted from off my shoulders. Literally.
My back didn't hurt, I looked great, and so I wanted that bra. But I also wanted the pink and purple Cleo full cup with the neon straps and a deep plunge. And the skimpy Simone Perele that levitated my cleavage by a good two inches. And before I left, Ms. Caldwell wanted me to try a new product: a white and black Elle Macpherson underwire that made me feel like I should be modeling it on top of a Corvette. So yes, I wanted that one too.
Walking out of Linda's with all four bras, plus special cleaning solution, cost me $185. Okay, that's more than I had planned on spending, but who can put a price on a brand-new posture?
A lot of places, as it turns out. The next day, I visited Intimacy on Third Avenue to make sure that my chest size hadn't magically vacillated in the last 24 hours. The fitter led me to a room, told me to strip, frowned and snapped the band of my brand-new Elle Macpherson. "Too loose," she declared.
As I defended myself against her "bad bra" judgment—it was brand new! and the right size!—she insisted that I try on some models that would fit more snugly in the front. Before I could say no, I was wearing a bra I dubbed "Blue Swan," for the ornate design work that cascaded down like a costume piece from Natalie Portman's ballet film. The brand also made a "Balconette" bra, which I assume was French for "put your boobs in the balcony section." I cried mercy after looking at the $216 price tag, protesting that those were orchestra prices. I nevertheless ended up purchasing the Balconette, along with a blue and white push-up by Chantelle that gave the kind of insane Victoria Beckham cleavage where the laws of gravity end somewhere around the midriff.
On the way out of Intimacy, I was reminded that even if I hand-washed my new purchases, I shouldn't expect them to last longer than six months.
No wonder women don't want to get sized. In two days, I had managed to spend $500 on six pieces of underwear that no one outside of my boyfriend will ever appreciate.
Or so I thought.
When I ran into a male friend the night of Intimacy fitting, he stopped in his tracks, did a double take and asked when I had dropped "like, 15 pounds." He must not have noticed that it was still there. It had just migrated north.
Such is life in the elite 20 percent who are wearing the right size bra. That is, unless I gain weight, lose weight or switch to Jockey's new system.
I guess we'll find again out in six months.