Thank you, come again! Two years after putting his Soho apartment on the market as a $16,000 a month (furnished) rental, The Simpsons voice actor Hank Azaria has finally sold the fifth-floor co-op.
Mr. Azaria picked up the loft apartment in 2005, paying $4.6 million to photographer and film director Cindy Sherman for what he once called "the happiest place on earth." Now he's offloaded it to the mysteriously-titled Third World Dog Trust for a cool $8 million.
Mr. Azaria tapped Stribling broker Bruce Ehrmann to list the rental at 84 Mercer Street two years ago, and when contacted by The Observer Mr. Ehrmann was tight-lipped about the most recent sale, saying only that it was not publicly listed.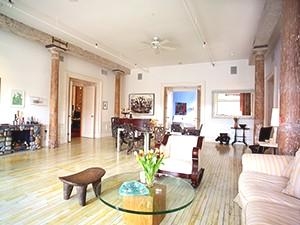 Back in 2011, the Smurfs actor told The Wall Street Journal that he was moving to Los Angeles to work on a new comedy series for NBC—though the show, Free Agents, which was a remake of the British office comedy of the same name, was axed in October of that year. (Four episodes were produced before the show was cancelled, and they were later aired on Hulu. Worst, pilot, ever!)
"From the moment the new elevator brings you to the sunlight blasted 50-foot entrance loggia," babbled the broker for the listing back before Mr. Azaria bought the apartment, "you know you are someplace extraordinary." Dubbed an "authentic loft," it sure seems to fit the description: 700-square foot living room, a 21-by-27-foot master bedroom, a master bath that accommodates a Jacuzzi and "matching antique pedestal sinks," all topped off by a "1,000+"-square foot studio space "with entire walls of craftsman-style storage."