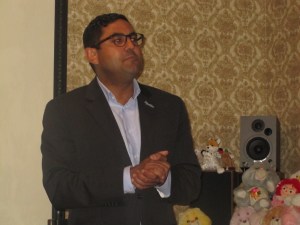 A candidate running to fill disgraced ex-Assemblyman Vito Lopez's empty seat said Wednesday he would be "hard-pressed" to vote for Shelly Silver as his speaker because of Mr. Silver's mishandling of the sexual harassment allegations that forced Mr. Lopez out.
Assembly Democrats have thus far been reluctant to discuss leadership changes, despite the fact that a majority of voters would like to see Mr. Silver go. But attorney Jason Otaño, the favorite of anti-Lopez activists, was blunt when posed the question at a forum last night.
"As more and more information comes to light about what's happened and how the speaker handled it, I find it very hard for me to be able to trust in leadership that isn't protecting the interests of our women," said Mr. Otaño, bemoaning what he labeled a "pathetic state of being."
"There is a culture of cronyism, there's a culture of backroom dealings and insider baseball that needs to change. And my policy and my perspective is that we need to change Albany. Now, I don't know that one person changes it, but right now, currently, I'm running to help bring that change," he said.
Mr. Otaño, who last year lost a challenge to a Lopez ally, State Senator Martin Dilan, will be facing another close associate, Maritza Davila, Mr. Lopez's co-district leader, who nearly unseated Councilwoman Diana Reyna four years ago. Charvey Gonzalez, an aide to Mr. Dilan, has also jumped into the race–sparking allegations from club members and Mr. Otaño himself that Lopez allies are attempting to split the vote to help Ms. Davila win.
Mr. Otaño said the district simply cannot afford to have a Lopez-backed candidate remain in power.
"Nobody in this room needs to be told how much change was needed and how necessarily it was that Vito resign from his seat. But now the message that needs to be spread is this is our opportunity to completely stamp out the infrastructure and the paradigm of politics that he's held and been able to create in North Brooklyn for so very long,'" he said, adding, "This isn't a done deal."
Still, Mr. Lopez, who is revered in parts of Bushwick for the millions of dollars he's delivered as the one-time chair of the Assembly's housing committee and Brooklyn's Democratic Party, wields a significant amount of influence and the outcome of the race to replace him is far from certain. Indeed, Mr. Lopez is currently running for the City Council, and despite the salacious scandal, even his detractors admit he could still win.
Additional reporting by Colin Campbell. Due to technical error, an identical version of this post was removed for several hours late Thursday afternoon. It has since been replaced without changes.