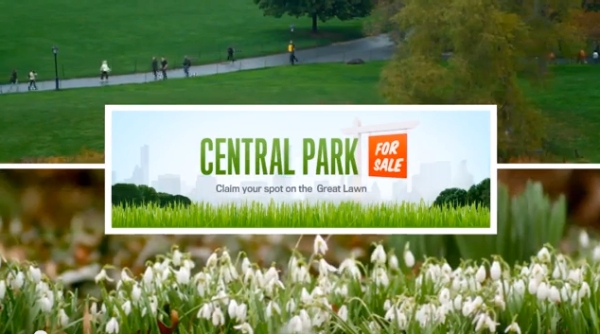 This morning, the Central Park Conservancy announced a new fundraising campaign called "Central Park for Sale." But by the afternoon, the site had been taken down.
The campaign is supposed to allow anyone to purchase a plot of land on a "virtual Great Lawn." This virtual Great Lawn has no connection to the real Great Lawn in Central Park, save for the name. It's just an online social networking game, the Central Park equivalent of Farmville, if you will.
Users are able to purchase their own virtual plot of the park for $10 per virtual square foot (quite a steal for virtual Manhattan real estate.) Users are then able to customize their plots of land and share them with friends on Facebook. "Give your spot a makeover," the site promised. "Who says your spot can't have pink grass or an infinity pool? On the virtual Great Lawn, it's possible. In fact, it's highly encouraged."
At least, that was the plan. But the site was taken offline by the Conservancy shortly after launching. (A Youtube video announcing the campaign is still up.) A spokeswoman for the Conservancy told The Observer that the virtual Great Lawn was suffering from a few bugs. (The real Park has had similar problems.) She added that the site should be back up in a couple of weeks.
In the meantime, the Conservancy's low-tech fundraising campaigns are still active. For just $50, the Conservancy will plant flowers in your name somewhere in the park. They'll even let you choose what type of flowers are planted—daffodils, tulips, or mums. But alas, not pink grass.
[youtube http://www.youtube.com/watch?v=g8PU7fuP2Vk]