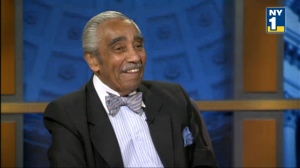 Charlie Rangel was on quite a roll last night on NY1's Road to City Hall.
From again predicting the demise of the Republican Party to castigating "this small group of sick people" in Congress who oppose President Barack Obama at all costs, to reflecting on "these young white kids [who] come along with their pants down and rapping and turning their hats around" in the context of his mayoral endorsement, Mr. Rangel addressed a number of topics rather bluntly.
First, discussing the House Republicans who pushed for cuts to the federal food stamp program, Mr. Rangel declared, "You have to stop me if I'm wrong. This is the end of the Republican Party as I know it."
"The only way in the long run that they can survive by broadening their base is to do what Lyndon Johnson did when the Dixiecrats went over to the Republicans," Mr. Rangel argued, referencing the Civil Rights Act of 1964. "He said, 'This is going to hurt our party but this is going to be good for the country.'"
But broadening their base is not necessarily an easy task, the veteran Harlem Democrat said.
"Republicans can't start loving brown people merely because they don't have them," Mr. Rangel warned. "It would be a new learning experience."
Delving into local political issues, the host, Errol Louis, pressed Mr. Rangel on his recent endorsement of Bill Thompson for Mayor of New York City. Mr. Rangel said he admired several of the other candidates, including Comptroller John Liu and Council Speaker Christine Quinn, but when push came to shove, he was forced to endorse who would best improve the city's education system.
"It has to be the education of our young people. It has to be the future. I refuse to accept the fact that grown people in the United States of America can allow our kids to get older, to shoot themselves, to go to jail, to end up in the street, to impregnate young women and to have this go on over and over and over," he said.
"I've done my share of blaming whitey for the conditions that slavery has [brought]," he added. "But somewhere along the line, this has to be national security. Because this thing is contagious. And I've seen these young white kids come along with their pants down and rapping and turning their hats around. If they ever get their hands on these guns and that thing really becomes an epidemic, then it's the whole country. And we can stop this thing. So–"
Mr. Louis interrupted the congressman ask if Mr. Thompson could help bring this about.
"Oh, I'm sorry," Mr. Rangel replied. "Thompson, he was with the Board of Education. Thompson has negotiated … reform. This is progress and this is something that we're going to work together on. "