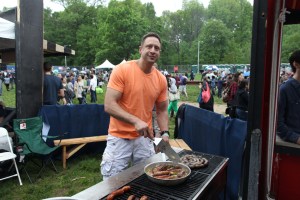 Pat LaFrieda Jr. can get a table at any restaurant in New York City. He blows past lines, never has to call, and always knows the chef. No, he's not a celebrity, at least not in the traditional sense, and he doesn't play on any team.
He's a butcher, the owner of Pat LaFrieda Meat Purveyors, and he supplies meat to just about every great restaurant in New York City. In fact, he's probably the one butcher most New Yorkers can name off the top of their heads, from spotting his trucks shooting in and out of the city, visiting his steak sandwich stands at Citi Field, or watching his reality show on Food Network (which he shares with his cantankerous and opinionated father, Pat LaFrieda, Sr., and his cousin, Mark Pastore).
I recently ventured out to LaFrieda's central warehouse in North Bergen, New Jersey, where I was given the full tour of rows of butchers hacking into whole sides of animals, grinding massive portions of meat, and dry-aging steaks to funky perfection. After the tour, I was led upstairs to a hidden man-cave, with a large TV and a sprawling couch, where I sat down with Pat, a tall man with a friendly face who's muscular body type confirms butcher, and his father, the perfect embodiment of working-class charm. I asked the men who supply meat and advice about meat to restaurants like the Spotted Pig, Minetta Tavern, and Momofuku how to throw the perfect barbecue this summer, and what butchers know that the rest of us don't.
NYO: Required first grilling question: gas or charcoal?
JR: I have a side, and I can tell you mine's gas.
SR: Gas. First of all, charcoal, puts a taste of the meat, and it's unhealthy, so they say. It's a mess, and you gotta throw it out.  The gas is perfect.
JR: I'm the same side, but for a different reason. We don't have time to mess around with charcoal; we're lucky enough if we've got time to grill! I know foodies are going to be saying, "No way! Charcoal is the best!" And yes, I agree, if you have the time. But we're working 18-hour days here, so no, we don't have time to be lumping charcoal around and waiting for it to heat up.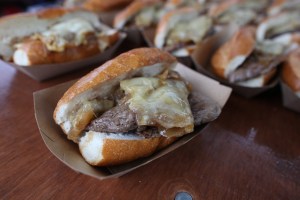 NYO: What kind of cuts do you recommend cooking on the grill?
JR: There are always the obvious suspects, like New York strip and ribeye, but my favorite thing to grill is skirt steak, because there's not much you have to do to it. I have a really quick five-minute marinade: brown sugar, Worcestershire sauce, honey, balsamic vinegar, and ground clove, and you just let the meat sit in that as the grill's heating. The flavors between the rub and the steak are just perfect for each other.  That's my go-to steak.
NYO: What should you say to your butcher to get the best burger?
JR: There are some key things to consider when buying burger meat: who are you buying it from? If you're buying it from the supermarket, and it's in package with a USDA number, that means it was made somewhere else. What's good is that it was made under USDA supervision, so if it says it's 80/20 leanness or chuck or black angus, a federal agent oversaw that. If you're just buying meat from a butcher shop, you should be buying meat from a butcher shop that you trust. Sometimes it's even better to go to a butcher and buy cuts of meat that you want to have in your burger, and use the hamburger attachment to your food processor at home to grind it yourself.
NYO: What do you recommend for feeding a big group?
JR:  I'm a huge fan of stuffed center-cut pork loins. We've got a prune biscotti stuffing we put in and then prepare it on the grill at about 200 degrees for a few hours. It's a great presentational piece to put on the table.
NYO: What is the most underrated cut of meat?
JR: I would probably say chuck steaks from the chuck roll, where the ribeye is separated from the shoulder. The muscles for the ribeye only get larger as you get into the shoulder, and it's really tender, so the first two steaks out of the chuck are amazing if you like ribeye steaks. We cut quite a few of these for David Chang [chef and owner of Momofuku]. He caught on to that a long time ago.
NYO: What are the keys to picking out a great cut of meat? 
JR: Well, when looking at steaks, the intramuscular fat is the most important thing to look for. That's going to dictate quality; the more intramuscular fat, the more tender. No matter what meat you're buying, it shouldn't have any odor, meat shouldn't smell like anything at all, unless it's dry-aged, and it should not be tacky at all, it shouldn't have any stickiness to it.
NYO: What are the most common mistakes you can make while grilling?
JR: Putting cold meat onto a cold grill and closing the top, because then you're just steaming the meat and it all turns grey. You're not getting the Maillard reaction [when meat browns due to high heat], and if you don't have a marinade with sugars in it, you're not getting caramelization either, and these are both very important. If you don't get either of those two, you've lost all the magic of what those flavors could possibly be. Also, if you're using really high heat—and there's a lot of grills nowadays with the infrared attachments that let you go above 800 degrees—and you salt and pepper something, the pepper will get really bitter. So it's better to put pepper on afterwards, because the salt's what gives you the crust on high heat. Now, if you're in the 400-500 degree range and you're cooking burgers, that's not an issue.
NYO: What are the keys to being a good butcher?
JR: You have to make sure that you have no waste, first of all. To be a good butcher you need to be able to gauge what you're going to use, which is very difficult to do, and the smaller you are, the harder it is to do. When [my father] and I walk into a butcher shop and see that the marinated section is two-thirds of the display case, we feel bad. We were walking through the butcher's at Grand Central the other day, everything was marinated, teriyaki and soy sauce, because those are dark, which hides the discolored and oxidized meat.
NYO: What is the most important part of having a family grill day?
JR: In my house, we're talking a minimum of 25 people, and frankly, there's no bigger group of ball-busters than my family. Hearing my father go at it with my cousin, my godfather, anyone, and the fact that everyone is together and laughing is the key part of it. As for the food, I stopped making antipasto for these guys a long time ago because everyone gets to my house hungry, and if I start giving them tidbits and cheese plates and other things first, they never eat the things I've spent most of the day preparing, so I starve them out to make sure they eat what I want them to eat.
NYO: What kind of grill do you use?
JR: I just got a 54-inch Viking, and I also use a [La] Caja China box [a latin-style roasting box used for large pieces of meat, including whole pigs.]
NYO: How did you first get into the business?
JR: I have been working with my dad every day since I was about 10 years old. Every day I had off from school, my dad would take me into work. I remember driving into the city with him; he was smoking Marlboro Reds and I was usually freezing even though I had ten layers of clothing on. It's something that I always loved doing. Besides the fact that I was working with my father and my grandfather, it really made a lot of sense to me. We were the behind-the-scenes guys, the guys that got it done for the chefs so the chefs could go out and be the superstars and be famous and serve great food to a great audience in New York City. My father sent me off to college so that I wouldn't have to work all night in the cold like he did, and I became very successful. I was a retail broker, wearing a suit to work every day. I thought I had the best job in the world for the first week, but I quickly grew to hate it. This company needed me to come in, to carry on the family line, and have the ambition to grow it. I had the passion for the business, and I felt it was my responsibility to maintain the family business.
SR: Well, it was tough times back when I got into it. I think I was about 12 years old. One summer, my father said he was going to send me into the city to work for my cousin. I knew the first day I started in the meat business that I wasn't going to do it, and 50 years later I still know it. I had four uncles and my father working with me to teach me this business. So, here I am today. My son's taking over, he's working as hard as I did back then. I tried to get him to slow down, but it's not happening because he keeps wanting to build things higher and higher.
NYO: What's your favorite cut of meat?
JR:  Non-frenched lamb rib chops. I just add salt and pepper and put a nice rosemary chimichurri on it afterwards. If you have a good quality Colorado-style lamb, that's really all you need.
NYO: Best steak in NYC?
JR: It depends on where I'm standing and what I'm in the mood for. If I want dry-aged strip steak then I'm heading to Minetta Tavern. If don't want dry-aged and I'm with my father, we go to Strip House. If I want a T-bone, I go to Porter House New York. One of the secret, go-to places for me is City Hall restaurant, I've been going for about 10 years now, I love that place.
Between the Buns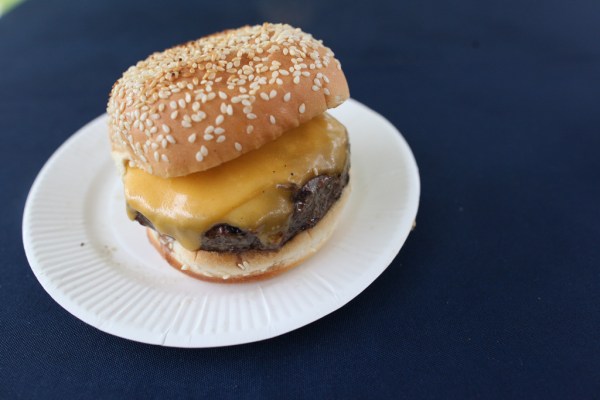 Get a nice hot grill: ideal temperature is about 400-500 degrees. That's easy to set on a gas grill. Charcoal grills tend to hover at about 500. You'll know the grill is hot enough when you can't hold your hand over it for longer than five seconds. If you're a stickler for accuracy, you'll need an infrared thermometer.
Season simply: Says Mr. LaFrieda: "I crust the outside with salt and pepper, that's it."
Sear it. The goal is to get a good enough sear so that the burger is medium rare in the center. With a patty that's one-inch thick, Mr. LaFrieda recommends two minutes per side and four flips (for a total of eight minutes cooking time.)
Top it off: Mr. LaFrieda's not one for elaborate fixings: just American cheese, sliced grape tomatoes ("I can't stand huge beefsteak tomatoes—they taste like watermelon!") baby arugula, and a few dollops of mayo "to keep all of that wedged on there."
editorial@observer.com