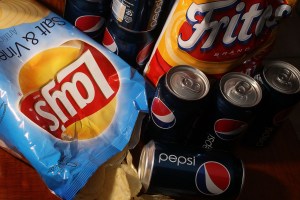 Doritos: good enough to go to jail for?
An anonymous "Frito bandito" has been periodically swiping up to $200 worth of chips and sunflower seeds from a Frito-Lay factory in Hunts Point and in what must be an infuriating allocation of their resources, the NYPD is on the case.
Capt. Philip Rivera of the 41st precinct told DNAinfo that police have identified a suspect in the chip capers who had previously been arrested on similar snack-pilfering charges. Apparently the charge, which must look really impressive on a rap sheet, doesn't draw much in the way of penalties, since the bandit has been seen breaking in on several occasions, sometimes using a pushcart to carry away whole boxes of snacks.
Police are forced to spend precious time staking out the warehouse and investigating the scene, while their efforts could almost certainly be better used elsewhere. Capt. Rivera said that security flaws and lax building maintenance facilitated the break-ins.
"It's a fenced-in area but holes are constantly being made in the fences," he said. "It's not very well lit. There's one camera that doesn't work. There's one security guard who doesn't work either."
"I'd rather use those resources on robberies than for a multi-billion dollar company that can afford to do a couple things to improve their physical security," he added.
The suspected "Frito bandito," whose name has not been released, has been arrested 17 times for burglary and 12 times for possession of stolen property. Earlier this year, he was sentenced to 60 days in jail for allegedly stealing $3,000 worth of fiber-optic cables from a ConEdison cable yard.
"When we put him away, he gets sentenced, he does two or three months, then he's back out on the streets," Capt. Rivera said.
It's a crazy, messed-up world when even crunchy snacks are not immune to crime.