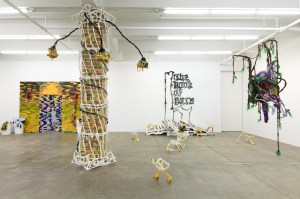 Adding a welcome twist to an art season marked by baleful, gallery-filling installations, the still-underrated mid-career Brooklyn artist Christian Holstad has conjured a surrealistic village from just a few stretches of handmade wall paneling and a scattering of kooky objects and creatures fashioned from repurposed towels, gloves and other textiles (Martha Stewart and Hanes tags intact), sometimes dyed and then shaped with metal hangers.
A fence is mid-collapse at the gallery's entrance; inside, pug-sized bees lie dead, a stroller slumps into a wall and skeletal chickens run amok. White metal garbage cans and wooden shipping palettes serve as pedestals for larger sinewy beasts, their spindly textile limbs mimicking the wild, rough-hewn feel of ceramics.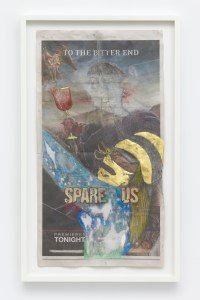 Composer Martin Maugeais provides an ambient soundtrack—plunking harpsichord and soft organ drones—that underscores the mystical, disjunctive mood, a meeting of the contemporary and the medieval. The exhibition's title, spelled out on a wall in ornate lettering with green towels, as if they're vines, alludes to the latter period's richly decorated religious texts, an ideal subject for Mr. Holstad's alchemy of the everyday.
In the back gallery, accessible through a fabric-draped portal, is a suite of Mr. Holstad's signature newspaper drawings, treated here with the reverence accorded to illuminated manuscripts. He has erased text from pages of The New York Times and drawn on them with graphite and gold leaf to tease out messages from stories and ads that are humorous, critical and poetic. A TD Bank ad now reads, "Eat like … people." Spartacus becomes "Spare us." Above a photo of a luxury watch, the artist has traced a single word in gold cursive: "Believe." Tweaking the rhetoric and material of religious and consumerist devotion, his work emblematizes an unashamed faith in art. (Through June 22, 2013)