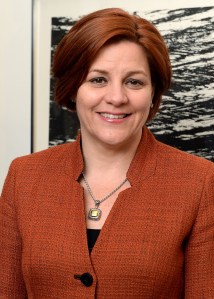 City Council Speaker Christine Quinn doesn't care if you like her or not. She's angling for your respect.
During an appearance on CBS This Morning touting her new memoir, Mr. Quinn was asked about her past insecurities and how she copes with the scrutiny that comes along with her campaign for mayor.
"Now you're going after a job where they have to like you, Christine, in order to get the job," anchor Gayle King told her.
But Ms. Quinn shot down the premise
"Well, they have to respect you," she said, arguing that politicians often get in trouble when they "want everybody to like you, which means sometimes people end up saying what they think people want to hear."
"That's not what people want in a mayor," she asserted. "They want a leader. And to lead, you need to accept that not everybody is going to like you, but you want them to respect you. And respect comes from telling people, 'This is what we're going to have to do, even if you don't think it's the right thing for your neighborhood.'"
(The neighborhood reference was perhaps veiled shot at former Comptroller Bill Thompson, whom she has accused of pandering after he came out in opposition to the East 91st Street waste transfer station, which she supports.)
Ms. Quinn's poll numbers–including her favorability ratings–have been sagging in recent weeks as her challengers have ramped up their attacks and with ex-Congressman Anthony Weiner's jump into the race.
Still, she ducked a question about whether she was surprised by Mr. Weiner's gains and the fact that he is now only a handful of points behind her.
"You know, I think polls go up and down. Who knows?" she said, pivoting back to her campaign message. "What I really am most concerned about is not so much the other folks who are running, but the voters I'm getting to talk to … They are really very concerned that the next mayor has a real record and a real vision, and I'm glad to be that person."
Ms Quinn, who kicked off petitioning efforts this week, said that, overall, voters seem generally excited about the future of the city.
She added, "But they want to make sure they have mayor who's ready to go, tough enough to lead and make sure this city moves forward."