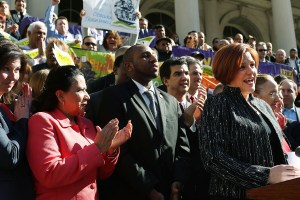 City Council Speaker Christine Quinn's mayoral campaign is expected to land the endorsement of 32BJ SEIU when its executive board votes on Tuesday, three sources familiar with the union's thinking told Politicker Friday.
The nod would mark the biggest union win for Ms. Quinn, who has also earned endorsements from Teamsters Joint Council 16 and the Retail, Wholesale and Department Store Union, among others.
Insiders had expected the decision to come down to Ms. Quinn and Public Advocate Bill de Blasio, whose campaign has been premised on deep labor support. 32Bj, the largest building services union in the country, represents 70,000 workers in the city, and prominently supported Ms. Quinn's compromise on a paid sick leave legislation earlier this year. They were also supportive of the living and prevailing wage deals forged by Ms. Quinn, which boosted wages at some companies receiving large government subsidies and where the city leases space.
The union's vote–which still has to occur, of course–will take place Tuesday morning, with a press conference expected Tuesday afternoon.