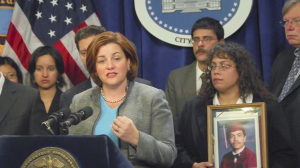 As City Council Speaker Christine Quinn's record is being pummeled by an ad campaign that urges voters to support "Anyone But Quinn," she launched a new series of "online testimonials" defending it.
"The Video Testimonial Series Highlights Real People in their Own Words Explaining How Christine Quinn Delivered Results When It Seemed No One Else Could," Ms. Quinn's campaign said in a press release Tuesday morning announcing the "Real People, Real Voices, Real #CQResults" campaign.
The first of the videos offers a moving testimonial from Levia and Reynaldo Prieto, the parents of Manny Lanza, who died at the age of 24 of a serious brain condition after he was denied access to care at a city hospital because he didn't have health insurance.
"In the days after his death, and in the chaos and confusion that followed, I received a phone call from Christine Quinn. She comforted my family in our darkest hour and made a commitment to me that she wouldn't let another family go through the suffering that we did, simply because they didn't have insurance," Mr. Prieto said in an accompanying appeal.
"True to her word, the very first bill Christine Quinn introduced as Speaker of the City Council was the Patient Information Act, 'Manny's Law', requiring hospitals in New York to develop comprehensive financial aid programs for patients like Manny," she wrote.
"She refused to allow another family to go through suffering because of not having insurance," she told the camera in the video. "The compassion she has for the human beings and to do what's right–that's her. And because of Christine Quinn, Manny didn't die in vain. So, I love her for that."
The effort comes a day after an anti-Quinn political committee called New York is Not for Sale announced another new ad as part of its ongoing campaign against the speaker. The new effort will be paid for with a $300,000 network affiliate media ad buy, and features testimonials from "real New Yorkers" attacking Ms. Quinn.
But Ms. Quinn's spokesman, Mike Morey, insisted its new effort had nothing to do with the anti-Quinn efforts.
"This is about demonstrating that Christine Quinn's record of results have an actual impact on real people's lives," he said.
You can view the first effort in full here:
[youtube http://www.youtube.com/watch?v=xBuBqZipJnY&w=560&h=315]