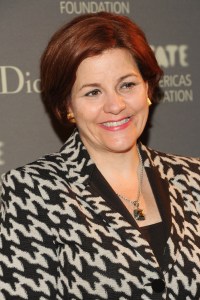 You can call Christine Quinn many things, but according to the City Council speaker, "establishment candidate" isn't one of them.
In an interview with WNYC's Brian Lehrer this morning, the host suggested she might be the most establishment-friendly Democrat in the mayor's race, an argument Ms. Quinn promptly shot down as she insisted her progressive roots, in fact, run deep.
"I can't tell you how unfair I think that is," insisted Ms. Quinn. "If you look at the record of what I've done, it's been about moving this city forward to make it a better place."
Last week, one of Ms. Quinn's rivals,  Public Advocate Bill de Blasio, insisted on the same radio show that he deserved the mantle of most progressive candidate–drawing the ire of the arguably more left-leaning City Comptroller John Liu. But Ms. Quinn insisted that she, too, has progressive credentials.
"Look, I am very proud of my life's work as a progressive," she said, pointing to her background as a tenants' rights organizer, a crime victims' advocate and fighter for reproductive and LGBT rights. "I want to be known as the most effective candidate in this race, the one who's gotten the most done for New Yorkers."
Ms. Quinn then argued that her record proved that she actually can deliver on the progressive promises that she makes in the mayoral campaign.
"Labels of course matter. But delivering matters more," she explained. "And I don't want to battle for a label. I want to battle to get things done for New York."