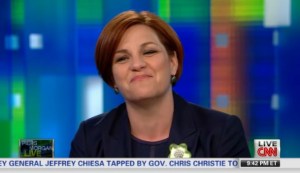 City Council Speaker Christine Quinn downplayed the challenge posed by Anthony Weiner in an interview last night with CNN's Piers Morgan, who appeared to be having a rollicking time making fun of Mr. Weiner's name.
Ms. Quinn, who is currently making the rounds promoting her new memoir, has so far avoided weighing in on the impact of Mr. Weiner's late jump into the race. But Mr. Morgan managed to break through her usually well-rehearsed rebuttals–for a moment, at least.
"How do you stop the Weiner?!" asked the British host, who'd been ribbing on Mr. Weiner's name through the night, prompting a big grin to spread across Ms. Quinn's face.
"Well, I think I'm doin' okay in that regard so far, let me tell you!" responded Ms. Quinn, who is running to become the city's first female and first openly gay mayor.
"I'm mean, you're still ahead of him, but he is creeping up, isn't he? The Weiner's coming!" Mr. Morgan said, leaving Ms. Quinn laughing so hard she audibly squeaked. "It's not my fault he's called Weiner! It's his name!" Mr. Morgan said.
Ms. Quinn then quickly tried to regain her composure, pivoting back to her talking points.
"This race–all joking aside–in my opinion isn't about who is or isn't in the race, the other candidate. It's about the needs of New Yorkers and making sure the next mayor is somebody who has a real record of experience dealing with those needs: education, housing, job creation and a vision to keep delivering on those problems," she said.
But is it appropriate, Mr. Morgan asked, for New Yorkers to vote as their mayor someone who sent naked pictures of himself to random women over the Internet?
"Look, that's for New Yorkers to decide … I know New Yorker are gonna vote for a candidate–me–who has the longest record of delivering for them," she answered, pointing to her record on affordable housing and reproductive choice. "They want a mayor who can deliver for them. And I'm the only one–I don't care who gets in–who has that record."
Mr. Morgan also complimented Ms. Quinn's memoir, With Patience and Fortitude, describing it as "terrific," "poignant," and "crackling," and commending Ms. Quinn–who fought bulimia and alcoholism after her mother's death–as "the light at the end of the tunnel."
Here's the full interview: