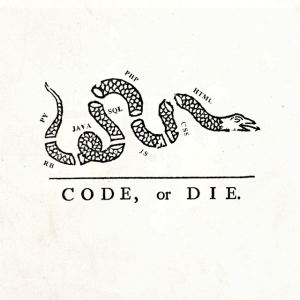 If there's one thing we've learned from the NSA leak debacle, it's that if everyone in the world would just learn how to code already, it never would have happened–or at least the news wouldn't have been such a shocking revelation.
Douglas Rushkoff took to the Codecademy blog today to explain why the digital illiterates among us are destined to a life of Aw, shucks surprise when it comes to important national security and technology news. The majority of programmers he's acquainted with, Mr. Rushkoff writes, already knew companies like Google were obsessively hoarding our data in exchange for us using their free products like Gmail. The rest of you are just dummies.
He writes:
Pretty much anybody who knows how code works was prepared for this sort of revelation. Because becoming code fluent is about more than simply knowing enough javascript to get a job. It's a way to become familiar with the operating system on which the human drama is playing itself out.
Though knowing that Google collects information about you might occasionally keep you from oversharing in your emails, it won't keep the government from collecting and parsing all that data you do leave around. But at least when news like this surfaces you can claim you already knew that.
So, what's the best way to combat government abuse of your data? By signing up for Codecademy of course.
"May the digitally illiterate proceed at their own risk," adds Mr. Ruschkoff. "Once again, you have been warned."
Hack or die!