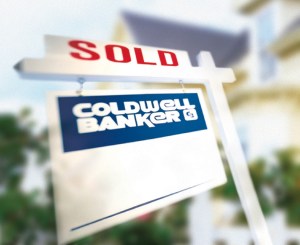 Coldwell Banker—it's a name that most Americans know from front yard for-sale signs across the country. Most Americans, that is, except for New Yorkers. But now Coldwell Banker is making inroads into in what may well be the most lucrative—and most competitive—real estate market in the country.
The mega-brokerage (the company claims to be the largest real estate franchise in North America) has announced that it will be entering the New York market via a franchise agreement with residential brokerage the Bellmarc Group (which acquired rental-focused rival AC Lawrence last November). The two companies will now be known as Coldwell Banker Bellmarc and Coldwell Banker AC Lawrence—a relationship that will give the real estate giant a toehold in the clubby world of New York real estate while offering Bellmarc a connection to Coldwell's national and international network of clients.
"We have a significant national and international brand, but we felt we had a gap in New York," Coldwell CEO Budge Huskey told The Observer in a phone interview this morning. "And we felt that the market here was such that we needed an established, reputable company to partner with. One of the reasons we wouldn't try to do a start-up was that we felt we really needed to have that local expertise, balanced in terms of brokerage and rental operations."
Indeed, while it's no mystery why a national or international brokerage would want to enter the New York market, particularly at a time when open houses increasingly end in all-cash offers and Russian oligarchs are flooding the luxury market with hundreds of millions of dollars. It is, however, incredibly difficult for outsiders and national firms to break into the market here—new brokerages are almost always opened by seasoned New Yorkers. And brokerages with offices in other cities—Miami, the Hamptons—tend to build their fortunes and their reputations here, rather than the other way around. It is telling that earlier this year Prudential Douglas Elliman dumped Prudential—the brokerage clearly felt that its power and presence in the New York market were such that they no longer needed to huddle under the national franchise's umbrella. Or perhaps that a national franchise's imprimatur didn't much of anything in New York.
"National brands aren't as significant in the New York real estate market, but there's no reason why they shouldn't be," Mr. Huskey said. "This helps us to complete a stronger network and to connect the dots."
As for Bellmarc, co-owner Neil Binder said that the advantages for the company were clear—the partnership was an opportunity to build on the growth that has accelerated since the AC Lawrence acquisition. "It's enormous synergy for everyone," he said.
Mr. Binder added that the partnership will also translate to more offices and more agents—the company is already looking to expand beyond their current seven offices and to grow to 1,000 agents by the end of the year—nearly doubling the current number of 600.