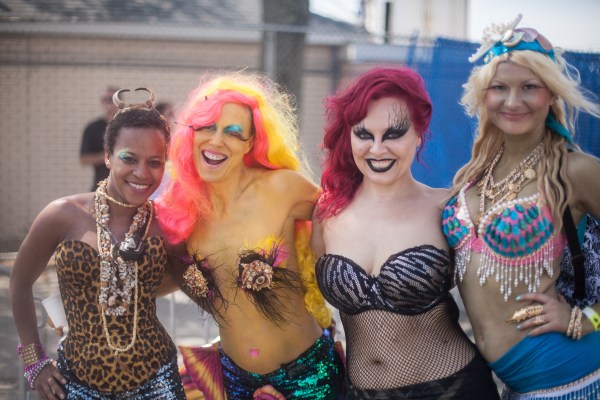 Coney Island's historic boardwalk, for months left ravaged and desolate in the aftermath of Superstorm Sandy, seemed fully revived last Saturday. Nathan's fielded long lines for hot dogs, delighted screams traveled from amusement park rides, and thousands of mermaids and mermen descended on Surf Avenue for the 30th annual Mermaid Parade, a celebration of summer weather, body confidence and all things wet and wild.
Earlier this year, the parade was nearly sunk. In October, Sandy devastated Coney Island, leaving the future of the boardwalk—and the parade—in limbo. In need of $100,000 to cover management costs, the nonprofit arts organization Coney Island USA, which operates the parade, launched a Kickstarter campaign to raise the funds. With the help of a few celebrity supporters like comedian Judah Friedlander, best-selling author (and current Real Housewife) Carole Radziwill and musician Amanda Palmer, the parade was thrown a life preserver.
"How do you not love mermaids?" Mr. Friedlander, this year's King Neptune, mused to the Transom. "They've been discriminated against for years, and this is their one day. You can't take it away from them."
When he learned that the parade was in trouble, Mr. Friedlander created a short video and posted it on YouTube. The film follows him along the deserted boardwalk and a bleak stretch of beachfront. "There used to be mermaids all along here," he sighs. "Now there's nothing."
The parade has long been seen as a celebration of otherness, attracting scores of artists, performers and plain-old weirdos. Last year's parade drew more than 700,000 spectators. States of undress are common, and topless performers often cavort alongside smiling children. Some parade-goers see it as another iteration of the Gay Pride Parade for its attitude of tolerance and whimsy.
As Queen Mermaid, Ms. Radziwill wore a cherry red wig, a glittering gold fishtail and a matching bikini top, along with custom jewelry made specifically for the event. "I'm the queen, so I've really got to step it up," she told us.
In support of the Kickstarter campaign, Ms. Radziwill encouraged her 100,000 Twitter followers to donate. She said that the Mermaid Parade was her favorite of New York's many extravagant processions.
"There's something a little bit more magical about this parade, because of the theme and because of the ocean and the boardwalk and the history of Coney Island, that just resonates with me," she said.
Ms. Palmer, who was not able to attend the parade because of a demanding touring schedule, organized a musical benefit to promote the fund-raising efforts.
In the end, the Kickstarter campaign managed to achieve and even surpass its $100,000 goal.
The flood of support was "humbling," said Dick Zigun, executive artistic director of Coney Island USA. "We are feeling the love, and we are amazed at how important the Mermaid Parade is to people's lives. Of course, they're all insane," he joked.
As the procession moved haltingly along Surf Avenue toward the waterfront, where the king and queen would open the summer swimming season, Brooklyn Borough President Marty Markowitz presided over his own float. "Welcome to America's most underdressed parade," he boomed. "If you are offended, now's the time to leave."
Monica Friedrich, an artist from Babylon Village, Long Island, had created a detailed costume for her fourth Mermaid Parade, with a headpiece sculpted into a colorful coral reef, necklaces embedded with jeweled sea horses and starfish, and two enormous glittering papier-mâché puffer fish across her chest. In 2010, photographer Harvey Stein included her in his book, Coney Island: 40 Years, and her image was used to promote this year's fund-raising efforts.
As photographers snapped pictures of her elaborate getup this year, she exclaimed, "This is better than Christmas!"