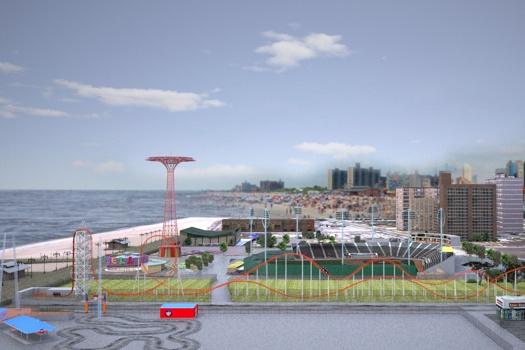 Back in the early days of Coney Island, there wasn't anything amusing about amusement park rides. They were more horrifically scary than anything else: compared to the Parachute Jump or horse diving, the boardwalk's two roller coasters, The Cyclone and Thunderbolt, must have seem tame in comparison.
But we've long since learned that simulating a skydiving with steel cables acting as your landing gear isn't the safest thing in the world and throwing a horse and rider into deep water from a diving board is downright cruel. Add to that the constant battle over converting AstroLand into Luna Park, Hurricane Sandy's destructive path and the closing of Coney Island Eight , and one could be forgiven for doubting that the glory days of Coney would ever return.
Yet somehow, miraculously, Luna Park was able to open again this summer, as was Nathan's, both of which experienced damage after Sandy. And the news today is even more cheering: the return of the Thunderbolt, which was bulldozed in 2000 to make room for the Brooklyn Cyclone's stadium.

According to an exclusive obtained by The New York Post, the new and improved Thunderbolt will include a loop, a 125-foot drop and will be 5 mph faster than the Cyclone. The 2,000 feet of steel will span from Surf Ave and the boardwalk on West 15, spanning an area of real estate owned by the city. It will not be on the property owned by the family of Horace Bullard, the Coney Island developer and founder of Kansas Fried Chicken (not to be confused with Kennedy Fried Chicken or KFC). Mr. Bullard legacy to Coney Island up until this point had been hid failed bid in the 80s to reopen Steeplechase Park, a plan that was thwarted by Giuliani. Nonetheless, he owned several pieces of prime real estate in the area, and his death in April leading to speculation of what would happen to the lots which previously housed the Thunderbolt and the iconic Shore Theater.
Since the ride is being built in a new location and on city property, the family of Mr. Bullard won't be seeing any of the $10 million of the city's Economic Development Corp. plans on spending on the coaster: by keeping it on city property, all that money will go to Zamperla USA being spent by the developers Zamperla USA, which will build and operate the ride that was immortalized as the juggernaut under which Woody Allen's Annie Hall character grew up. A new and improved Steeplechase Plaza opened two weeks ago in a ceremony presided over Mayor Bloomberg.
[youtube http://www.youtube.com/watch?v=hMbJuZKQztI&w=420&h=315]